How Can The Attorney Client Privilege Help You – And Can You Lose It?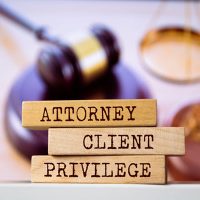 You've probably heard of attorney client privilege and may even have a general idea of what it does. But why you may not know, is why it is so important, how it can help you—and how you could, if you aren't careful, destroy this privilege.
What is the Attorney Client Privilege?
The attorney client privilege says that anything you tell your attorney, good or bad, can never be revealed to any other person. No judge can ask you or your attorney what you discussed, and neither can the other side in your case, or anybody else. Both you and your attorney have an absolute right to refuse to tell anybody what the two of you discussed.
There are some exceptions, which wont apply to most people. For example, you can't use your attorney to help you commit a crime, and your attorney can report anything you tell him or her, which indicates that you are going to commit a violent crime, or that you may hurt yourself or others.
Attorney client privilege is one of the most cherished and powerful privileges there is. And in case you were worried about your own attorney revealing what you told him or her, don't—every code of ethics or lawyer ethical rules, requires attorneys to keep their clients' information secret.
Why Do We Have the Privilege?
Attorney client privilege is necessary because the law understands that for an attorney to properly and fully represent you, the attorney must know everything about your case—the good and the bad. If people had to worry about whether the "bad things" about their case could be revealed, they wouldn't tell their attorney those things, and the attorney would not have all the information needed to help you.
Losing or Waiving Privilege
There are times when the privilege can be lost—this often happens accidentally.
The first problem is when you simply tell other people what your attorney said. If your attorney tells you something and then you tell your buddy, your buddy could be asked what he knows or what you told him.
Many times, clients want friends or family with them, when they are speaking to their attorney. But the privilege only exists as between you and the attorney—not your friend or family member. That means that the friend or family member could be asked what he heard your attorney tell you.
Obviously, saying anything your attorney told you to other people, or posting it on social media, can waive and ruin the privilege.
Giving Documents to Your Lawyer
The privilege exists not just to verbal communications, but also written ones between you or your attorney. But you can't magically transform non-privileged information into privileged information, just by giving it to your attorney.
So, if you have a random document, you can't protect it just by giving it to your attorney.
Let our attorneys help you with the strengths and the weaknesses of your case. Contact our Rhode Island personal injury lawyers at Robert E. Craven & Associates at 401-453-2700 today for a free consultation.
Sources:
americanbar.org/groups/professional_responsibility/publications/model_rules_of_professional_conduct/rule_1_6_confidentiality_of_information/comment_on_rule_1_6/
generalcounsel.wayne.edu/legal/attorney-privilege