How Does Property Damage Insurance Work After A Car Accident?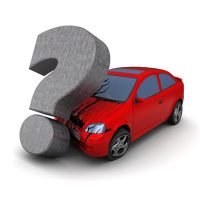 When you are in a car accident in Rhode Island, it isn't just you and your body that's injured—it is also likely your vehicle. And while damage to a car or property is far less serious than bodily injury, people still need their car in working order to get to work, make money, transport kids, and do their activities of daily life.
Car Damage Insurance Basics
Many people aren't aware of how property damage to vehicles works in Rhode Island.
When your car is damaged, your property insurance will pay to have your car repaired. Or at least, it will in most cases. If your car is seriously damaged, and the damage to the vehicle exceeds 75% of the total value of the car, the insurance company can opt not to fix the car, but rather to declare the car a total loss, and pay you the value of your car.
On first glance, you may think this is a great thing—you get money for a new car! Except, you don't.
Problems with Total Losses
If the insurance company declares your car a total loss, it won't give you money for a new car—it will simply give you the value of your current car (at its value before the accident). The problem is that the value of your current (now totaled) car may be so little that it isn't enough to buy you a new car.
Now, you are stuck with a small payout based on the value of your now-totaled car, and no cash to buy a new one (or at least, you would have to get a loan to afford a new car).
But you're not worried about that because you have a newer car, that's worth a lot-you'll get a good amount when your car is called a total loss. Except you still have a problem: Many newer cars are "upside down" in value—that is, they are worth less than what is owed on the loan.
If that happens, when the insurance company pays you the market value of your vehicle, declaring it a total loss, you will still owe the loan company the balance of the loan. So, you will owe money to the lender, and still need to get yourself a new car. If you have gap insurance, you can avoid this problem, but many people don't get gap insurance.
Disputes With Insurance
This is why many consumers would prefer that their car be repaired, as opposed to totaled. But that isn't always up to you—in many cases, you and the insurance company may argue over whether the car gets totaled or not.
The problems are getting worse with newer, electric vehicles, like Teslas. According to some reports, Teslas are so expensive to fix, that they are being declared a total loss at a much higher rate than standard vehicles. This can leave EV owners with big problems, if their car is declared a total loss in an accident.
Contact our Rhode Island personal injury lawyers at Robert E. Craven & Associates at 401-453-2700 today for help with damage to your car, and injuries to your body after an accident.
Sources:
dbr.ri.gov/sites/g/files/xkgbur696/files/documents/divisions/insurance/property_casualty/com_guide-auto_insur.PDF
carscoops.com/2023/06/tesla-owners-23k-bill-after-rear-end-collision-shows-ev-repairs-can-be-shockingly-high/