It's Easier Than You Think To Be Injured On The Stairs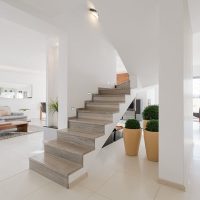 We often go up and down stairs, without realizing how dangerous they can be. Stairway falls are common, and usually when they do happen, it's because of poor construction, failure to maintain the stairs, or other neglect by the property owner.
Evenly Spaced Steps are Vital
You may notice that when you go up or down a stairwell, your body adapts; you get into a "rhythm," where your body knows when the next impact from the next step will be, and your muscles adjust accordingly. The reason why you don't destroy your ankles, knees and hips, among other body parts, on every step, is that you are subconsciously bracing for the impact of the next step to minimize the impact on ligaments, tendons, or joints.
But when steps are uneven, your body doesn't expect the impact to be where it is. This can be catastrophically dangerous; your knees and ankles can shatter, because your muscles don't know when to "kick in" to soften the impact of the next step.
Most building codes will require that stairway lengths and depths be the same from step to step, and when they are not, you can be easily injured because of the property owner's negligence.
These kinds of injuries often happen when stairs have uneven widths, lengths or height—that is, when these measurements are different from step to step, or worse, when all the stairs are the same except for one that is not.
Striping on Each Step
Another thing that you may notice is that every step in a stairwell is often the very same material or flooring; there is not, for example, one wood step and one carpeted step and then a concrete step. In other words, there is nothing inherent about stairs that tells your eyes or mind, where one step ends and another begins.
This is why stairs do, and should, have a border or a strip at the very edge of each step, that is usually of a color that makes it stick out. This is what tells your brain where a step ends and another begins. Without this step, your foot could easily "catch" on a step as you are walking up or down each step, causing you to fall.
Handrail Safety
Handrails are another cause of accidents in stairwells. Most building codes have specific requirements about the required height for handrails, and some may even specify the width of the handrail.
Many property owners give little attention to these handrails; they may allow them to deteriorate, or become unstable; a wobbly handrail can sometimes even be more dangerous than none at all, as your body expects to be braced, and then suddenly is not when a handrail is loose and shaky. In some cases, smaller groups of stairs may have no handrails at all.
Contact our Rhode Island personal injury lawyers at Robert E. Craven & Associates at 401-453-2700 today if you have been injured on stairs or a stairwell.
Sources:
codes.iccsafe.org/content/FBC2017/chapter-10-means-of-egress
neit.instructure.com/files/1170224/download?download_frd=1#:~:text=Check%20the%20riser%20height%207.69,It%20is%20legal!&text=Riser%20height%20is%20less%20than,It%20is%20also%20legal.