Open And Obvious Conditions: Yes, You Can Still Recover Damages For Your Injuries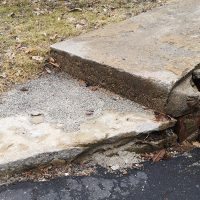 There are some things that people fall on that are hard to see. They are hidden, or perhaps, camouflage into their surroundings, such as clear water on a floor.
But other times, people fall on things that, to the naked eye, are clear and observable. That doesn't make them any less dangerous, and it doesn't excuse the fact that the dangerous condition is allowed to exist in the first place.
Nonetheless, the fact that a dangerous condition would have been observable by the victim, can create problems in a typical fall case.
Open and Obvious Conditions
When a dangerous condition can be seen or observed, it is called an open and obvious condition.
Imagine that you are walking in a parking lot, and there is a step up, to get into the property itself. You slip and fall on the step. The property owner will say that the step is an open and obvious condition—there is nothing hidden about it, and it can be seen by anybody who looks.
The same might apply for a box left in the middle of a shopping aisle. Yes, the box shouldn't have been there—but it was clear to anybody who looked that it was there, and thus, Defendants will say, it was easy to avoid if the victim was using due care and paying attention.
The Way it Used to Be
For a long time in Rhode Island, a property owner didn't have to warn you in advance (such as, by putting signage or warnings) of an open and obvious condition. It was assumed that you don't need a warning, for something that isn't hidden. Because the dangerous condition was so obvious, the law used to be that you could not sue (or win) if you were injured on or by an open and obvious condition.
The Law as of 2019
The good news for victims is that if a condition is open and obvious, according to a law that went into effect in 2019, the Defendant doesn't automatically win the case, the way it used to be.
Rather, the jury can apportion liability to the victim, if they wish to do so. That means that while the victim may recover less than he or she would have if the condition were hidden, the fact that the condition was open and obvious doesn't automatically mean that the victim can't win the case.
The Defendant can still allege a condition was open and obvious, and can still use it against you, it just isn't an automatic, foolproof win for the Defendant.
Challenging Open and Obvious
And even to the extent that a condition may be open and obvious, a victim can still challenge whether a condition actually is open and obvious. For example a victim can challenge the fact that the condition was readily observable, or that it was unobstructed.
Contact our Rhode Island personal injury lawyers at Robert E. Craven & Associates at 401-453-2700 today if you were injured in a fall on someone else's property.
Sources:
webserver.rilin.state.ri.us/Statutes/TITLE9/9-20/9-20-4.HTM
trackbill.com/bill/rhode%20island-house-bill-7535-an-act-relating-to-courts-and-civil-procedure-procedure-generally-provides-that-an-open-and-obvious-danger-or-defect-is-not-a-complete-bar-to-recovery-of-damages-in-personal-injury-or-property-damage-actions-/1552949/