Stay Safe On Golf Carts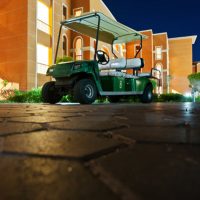 It seems that everyday, people are looking for alternatives to using cars, especially in smaller towns, or to make local shopping runs. One mode of transportation that has taken off lately, is the increasing use of the golf cart. But golf carts are starting to be used in ways that they were never intended to be used, and in some cases, they are even being completely abused.
Only Designed for the Course
Although many golf carts can be modified for various purposes, most golf carts were designed for the golf course. The golf course is smooth, relatively flat, and certainly there is no need for speed, maneuverability or quick or sudden movement, when riding on a golf cart on a golf course.
But all of that changes when the golf cart starts to become a daily driver. Now, the golf cart is asked to do things that it was never intended to do.
Not only do things like shocks, speed, or a poor center of gravity contribute to the accident risk on a golf cart, but the cart is not prepared to deal with the terrain outside the course; naturally occurring imperfections like potholes, dips, ricks, ledges or small curbs, can completely flip a golf cart.
Unfortunately, many drivers, used to driving cars, and seeing road conditions that are "no big deal," will just drive a golf cart over those same conditions mistakenly believing that the cart can handle whatever a car could handle.
No Safety Protections
If you are in a golf cart that does crash, you are in a bad position; the typical golf cart has almost no safety features. It certainly has no seat belt. It has no doors, leaving passengers free to be thrown out of the cart and onto the ground (or to be trapped underneath a flipped golf cart).
The ceiling of the cart is not strong or reinforced, meaning that should the cart flip, the entire weight of the cart could collapse on the passengers.
Misuse and Abuse
Making all of this even worse, is that many people—particularly younger people—see golf carts as recreation vehicles, or makeshift all terrain vehicles. Carts are often used by intoxicated individuals, believing that they are "safer" on a golf cart, as compared to being behind the wheel of a car.
Younger people may load up golf carts with way more people than the cart is intended to handle. It is not uncommon to see people standing on the back of the cart, hanging onto the cart's posts or other infrastructure.
Who Is Liable?
Remember that in a golf cart accident, multiple people may be responsible. The cart's owner, the guardians of the cart's driver, or someone else, outside the cart that caused the cart's accident. Additionally, owners who don't maintain a golf cart with the same diligence as a car, can be liable should a malfunction happen that causes an accident.
Contact our Rhode Island personal injury lawyers at Robert E. Craven & Associates at 401-453-2700 for help if you have been injured by or while on a golf cart.
Source:
safetyandhealthmagazine.com/articles/20884-study-finds-golf-cart-related-injuries-are-common