Trampoline Parks May Not Be Very Safe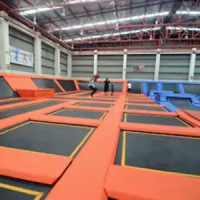 Bouncing on a trampoline was always a fun childhood activity. Today, it's more than just a childhood activity-there are actual huge trampoline parks that kids, as well as adults, can play in and on. But while these parks can be fun, they also can be quite dangerous.
What is a Trampoline Park?
A trampoline park is an indoor recreation center, with trampolines everywhere. Trampolines are the floor and the walls. There are basketball hoops, monkey bars, and equipment to climb on, to use in conjunction with the trampoline. But unlike the controlled environment of a home trampoline, many commercial trampoline parks are unregulated and unmonitored.
Different Ages and Weights Create Dangers
One big problem with these parks is that there are often younger, lighter kids jumping alongside older, heavier children. This can lead to serious injuries.
Imagine this scenario: Your child is young, and light. When he jumps on the trampoline, there is no problem—the trampoline bounces back up, without hitting the ground underneath. But now imagine that at the same time your child is going downwards, pushing the trampoline floor downwards, next to him is an older heavier child. The combined weight of your child and the heavier child, going downward at the same time, is enough to push the trampoline floor all the way down until it contacts the hard flooring underneath.
Now the trampoline floor is solid, as it contacts the flooring underneath,—it is not bouncy the way it is supposed to be. Ankles, knees, and any other part of the body, can be shattered, if it comes down as the trampoline floor is touching the hard floor underneath it.
Rebound Effect
Another problem is a trampoline's rebound. Again, the rebound effect from a young child isn't much; a young child isn't heavy enough to cause the trampoline to rebound upwards with any real force. But if the child next to yours is much heavier and older, and the trampoline is now rebounding with much more force, because his weight has forced the trampoline further downward? The rebound effect can be dangerous to a younger child.
None of this even accounts for the naturally rougher horseplay that older children may engage in. Or the fact that a trampoline can hurl someone's body out of control, to the point that an older child's heavier body can be dangerous if it collides with a smaller child.
Injuries do Happen
These are not merely hypotheticals; stories abound of children who have sustained serious injuries at trampoline parks. Unfortunately, there are no laws or regulations that govern these parks. In an effort to cram as many people inside as possible, these parks may not think twice about mixing old and young kids, or overloading a trampoline area with more jumpers that the trampoline can safely handle.
Contact our Rhode Island personal injury lawyers at Robert E. Craven & Associates at 401-453-2700 today if you are injured in an accident in an amusement park, carnival or trampoline park.
Sources:
aaos.org/aaos-home/newsroom/press-releases/trampoline-safety/
northernvirginia.legalexaminer.com/legal/beware-before-you-bounce-the-dangers-of-trampoline-parks/