First Vaping-Related Death Reported in Rhode Island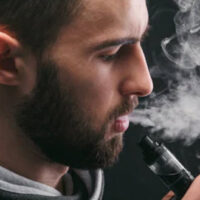 The first vaping-related death has been reported in Rhode Island while the number of fatalities and injuries linked to vaping continues to rise nationwide. As of December 17, the Centers for Disease Control and Prevention has confirmed at least 54 deaths and over 2,500 illnesses tied to vaping.
Injured vapers in Rhode Island and elsewhere in the U.S. have been filing product liability and personal injury lawsuits as a result of suffering health complications, injuries, and illnesses due to using e-cigarettes and vaping devices.
A Rhode Island personal injury attorney can help you pursue a claim against the vaping company, manufacturer, seller, distributor, supplier, and others whose negligent acts or failure to inform of risks resulted in your vaping-related injury or disease.
First Death Linked to Vaping in Rhode Island
The CDC has reported the first death linked to vaping in Rhode Island. According to a report by NBC 10 News, the death of a Rhode Islander in their 70s marked the state's first vaping-related fatality.
The death was included in the CDC's update on the outbreak of lung injuries caused by vaping released last week. However, a spokesman for the Rhode Island Department of Health told NBC 10 News that it was unknown "to what degree, if any," a vaping or e-cigarette product contributed to the Rhode Islander's death.
Joseph Wendelken said that the CDC is trying to collect "as much information as possible" on every vaping-related injury and death in the U.S.
Symptoms of Vaping-Induced Lung Problems
As U.S. health officials are still trying to determine the cause of vaping-related lung problems and other illnesses caused by vaping products, anyone who experiences symptoms of lung injuries caused by vaping or using e-cigs must seek medical attention in a timely manner.
The most widespread signs of vaping-related lung problems are:
Shortness of breath
Coughing
Abnormal respiration
Fatigue
Fever
Chest pain
Weight loss
Diarrhea
Document your vaping-induced injury to be able to build a strong legal case against vaping companies, sellers, distributors, or other parties who manufactured and sold an inherently dangerous product or failed to warn of its risks.
You could be entitled to recover damages associated with your vaping-related injury or illness, including medical bills, lost wages, diminished quality of life, reduced earning capacity, and others.
Can You Pursue Damages After a Vaping Injury?
Since vaping can cause serious damage to the lungs, an injured vaper may end up with reduced earning potential and diminished quality of life. In fact, a vaping-induced injury can result in a lifetime of medical expenses.
So, how does one get compensated for these damages associated with a vaping-related injury? You may need to contact a Rhode Island personal injury attorney to file a product liability case and pursue damages. Contact Robert E. Craven & Associates to schedule a consultation. Call at 401-453-2700.
Resources:
cdc.gov/tobacco/basic_information/e-cigarettes/severe-lung-disease.html
turnto10.com/news/local/first-vaping-related-death-reported-in-rhode-island
https://www.robertecravenlaw.com/robert-e-craven-a-lawyer-of-the-year-talks-about-eliminating-the-open-obvious-doctrine-in-rhode-island/