Friction Plays A Large Part In Slip And Fall Cases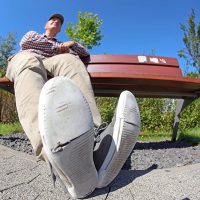 Many people see slip and fall accidents as being relatively easy cases. Was there a substance on the ground? How long was it there? Did the victim see it? But there is actually a good amount of science that comes into play in slip and fall cases—specifically, the science of friction.
Friction When You Fall
Friction plays  a large part in slip and fall cases. Friction is just the resistance between two surfaces when they rub together; the less friction, the less resistance and thus, the more slippery the surface will be. The measure of friction is called a coefficient of friction.
Sometimes when you fall, there is friction—or specifically, a lack thereof—between the surface of your shoe, and the ground beneath you. With no or little friction, there is no "hold," between your feet and the ground, and your feet slide out from under you. The reason why, for example, water makes a surface slippery is because water lessens the natural friction of the surface below it.
A surface may be naturally slippery. Have you ever walked somewhere and noticed that your feet tend to be sliding underneath you? Many property owners mistakenly believe that as long as there is nothing on their floors, they have no duty to protect customers or visitors. That just isn't true; a landowner who knows a surface is naturally slippery needs to warn people of the surface, or take measures to increase the surface's friction level.
Interaction Between Materials
Sometimes, the surface itself is fine, but something on that surface is making it more slippery, thus lowering the coefficient of friction. Imagine a marble floor. If your shoes are rubber, there may be a lot of friction; rubber tends to be "tacky" and will stick to even an otherwise slippery marble floor. But if I coated your rubber soles with water or ice that you bring in from outside, the friction would be lowered, making the surface much more dangerous.
This is why when you fall, the Defendant often will want to know what shoes you are wearing. Often, we wear shoes with worn down soles—so worn down that an otherwise tacky bottom of a shoe will now lose its stickiness. By asking to see the shoes you were wearing, the defendant is trying to show that you caused or contributed to your fall, because you were wearing inappropriate or slippery shoes.
Being Too Sticky
It's not just surfaces that are too slippery that are dangerous. Sometimes, surfaces aren't slippery enough. A surface can be so tacky, and cause your foot to stick so much to the ground, that you can be caused to fall that way also. Often, ankles or knees can be injured, as floors are supposed to have a certain amount of "give" when you step on them.
Were you injured in a slip and fall accident? We can help. Our Rhode Island personal injury lawyers at Robert E. Craven & Associates are here to answer your questions. Call 401-453-2700 today.
Source:
sciencedirect.com/topics/engineering/coefficient-of-friction#:~:text=Coefficient%20of%20friction%20is%20defined,holding%20them%20together%20%5B18%5D.