Can You Hold A Landlord Liable For Your Slip And Fall Injuries On The Leased Property?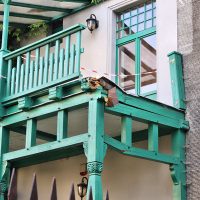 If you slipped and fell on your leased property, you might wonder whether you can hold your landlord liable for your injury and resulting damages. The question is not as straightforward as it may seem.
Under the common law, you may not be able to sue your landlord for injuries on the leased premises unless there is clear and convincing evidence to prove that the slip and fall occurred due to a dangerous condition the landlord knew about but failed to fix in a reasonable amount of time.
You may also be able to hold a landlord liable for your slip and fall injury if the landlord fails to comply with health and safety standards. If a tenant's injury occurred on the leased property, they might also be able to pursue an injury claim against their landlord under the Residential Landlord and Tenant Act (RLTA).
If you have been injured in a slip and fall accident on leased property, it is in your best interests to discuss liability with a knowledgeable attorney. Speak with our Rhode Island slip and fall lawyer at Robert E. Craven & Associates to talk about your case.
What is the Residential Landlord and Tenant Act?
The Residential Landlord and Tenant Act is codified in Chapter 34-18 of Rhode Island General Laws. Legislators passed the Act, which took effect back in 1987, to clarify the rights and obligations of tenants and landlords in Rhode Island.
The RLTA applies to most rental agreements for:
Residential dwelling units
Public housing
Federal subsidized housing
The Act requires landlords to maintain the leased premises in habitable condition. Specifically, Rhode Island Gen. Laws § 34-18-22 requires landlords to:
comply with applicable housing, building, and safety codes;
make the necessary repairs to maintain the premises in habitable condition
supply running water, including reasonable amounts of hot water
keep common areas in a safe and clean condition
keep electrical, sanitary, plumbing, and other facilities and appliances in a safe working condition
Many provisions of the Act echo the provisions of the Uniform Residential Landlord Tenant Act (URLTA), which passed in 1972.
Are Landlords Liable for Tenants' Slip and Fall Injuries?
The answer depends on the circumstances of your slip and fall accident. In some cases, a tenant may be able to hold their landlord liable for the slip and fall injury under the common law, RLTA, or URLTA.
However, as evident from a 2019 ruling of the Supreme Court of Kentucky (Waugh v. Parker), a landlord cannot be held responsible for a tenant's injury if the tenant knew about the dangerous condition that led to their injury. In the Waugh v. Parker case, a tenant got injured after falling through an old railing.
While the URLTA requires landlords to ensure that all handrails on a leased property are firmly fastened and kept in good condition, the Supreme Court stated that the URLTA was designed to supplement common law rather than replace it.
Under the common law, the landlord could not be held liable because they warned the tenant about the condition of the railing.
Consult with a Rhode Island Slip and Fall Lawyer Today
A landlord's liability for slip and fall injuries on leased property is a highly debated topic. Whether or not you can hold a landlord liable for your injury on the leased property depends on the circumstances of your specific case.
For this reason, you should speak with an experienced attorney to discuss your case and determine whether or not you can sue your landlord for your injury. Contact our attorneys at Robert E. Craven & Associates to receive a case evaluation. Call 603-624-7200.
Source:
casetext.com/case/waugh-v-parker-1?__cf_chl_jschl_tk__=pmd_MwnIYEcGlCLF_RPlHia5tTjv1Gmimy.8bkonpLo80KM-1631807345-0-gqNtZGzNAiWjcnBszQp9