Can a Rhode Island Bar Be Held Liable for Your Slip & Fall Injury?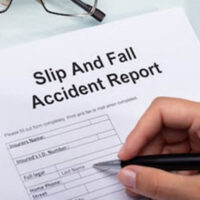 What happens if you slip and fall or trip and fall in a bar or nightclub? Are you the only one to blame, or can the bar be held responsible for your injury? What if someone dies?
These are the questions that Rhode Island residents have been asking upon hearing the news that a woman died and another was injured after they fell down a staircase in Westerly.
If you slipped and fell while spending quality time in a bar, restaurant, or nightclub in Rhode Island, talk to our Rhode Island slip and fall attorney from Robert E. Craven & Associates. You may be entitled to compensation under the legal doctrine of premises liability.
One Woman Dies, the Other Gets Injured After Falling Down Stairs in a Rhode Island Bar
According to WJAR, the fatal incident occurred at the Hill Top Cafe, a local bar in Westerly, on Friday night. Police in Rhode Island are investigating the tragic event after two women fell down concrete steps.
The women were reportedly going outside to smoke a cigarette when they fell down the steps that led to the basement and liquor storage room. As a result, one 31-year-old woman from Westerly died from life-threatening injuries, while the other woman, also 31, from Connecticut, suffered an injury.
The second woman has since been released from the hospital. The police investigation has yet to determine what caused the women to fall down and whether the bar can be held liable for the fatal incident.
Can the Bar Be Held Responsible for Your Slip and Fall Injury?
When a slip and fall accident in a bar causes injury or wrongful death, can the injured victim or surviving family members file a claim to seek compensation? A trip or slip and fall accident in a bar could potentially give rise to liability if any of the following factors were involved:
Overcrowding. A bar – or any other establishment, for that matter – must be cautious to have a reasonable crowd at any time. Unfortunately, many bars fail to prevent overcrowding during "peak hours" on Friday and Saturday night. If your injury occurred at a time when the bar was beyond capacity, overcrowding might be to blame.
Inadequate lighting (or lack thereof). While dim lighting is not uncommon in bars and nightclubs, it does not change the fact that people are more likely to slip and fall when the lights are too low simply because they cannot see the hazards and other obstructions.
Improper inspection. Bar owners and their employees in Rhode Island have a duty to regularly inspect the venue to detect dangers on the property and eliminate them. These are the steps a bar owner and its personnel must take to keep patrons safe and prevent injuries. The adequate inspection of the venue includes cleaning inside the bar area, keeping the bathroom clean and free of hazards, and making sure that there are no dangerous conditions outside on the property.
Inadequate security measures. Every bar owner in Rhode Island knows that venues such as bars and nightclubs need adequate security measures and safety personnel to protect patrons from a wide range of dangers. Inadequate security measures at the time of a slip and fall accident could give rise to legal liability.
Lack of warnings. If the bar owner or its employees knew of a hazard that could cause a patron's slip and fall accident but failed to place warning signs or otherwise warn its patrons of the risk, they can be liable when an accident occurs, and someone gets hurt. In fact, the bar owner can no longer use the "open and obvious" rule to defend itself against your claim because the state of Rhode Island has eliminated the doctrine.
Determine liability in your slip and fall accident in a Rhode Island bar with the help of our Rhode Island slip and fall attorneys. Here at Robert E. Craven & Associates, our Rhode Island slip and fall attorneys can help you obtain compensation from the bar, nightclub, restaurant, or another venue where your accident occurred. Call at 401-453-2700 for a confidential consultation.
Resource:
turnto10.com/news/local/one-woman-dead-and-one-injured-after-falling-down-stairs-of-westerly-bar
https://www.robertecravenlaw.com/airbnbs-popularity-grows-in-rhode-island-but-what-about-liability-for-guests-injuries/