What to Do After a Rhode Island Pedestrian Accident?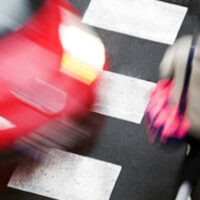 A female pedestrian was struck by a vehicle in Westerly, Rhode Island, as the state continues to be beset by an increasing number of pedestrian accidents. Pedestrian deaths have been rising nationwide, as reported by U.S. News, citing a WPRI-TV report.
The rate of pedestrian deaths in Rhode Island has held relatively steady in recent years, with the state averaging 12 fatalities per year. Pedestrian fatalities represent more than 21% of car accident deaths in Rhode Island.
The report states that about 80% of pedestrian fatalities in Rhode Island occur between 4 p.m. and midnight. According to NPR, pedestrian deaths nationwide in 2018 reached the highest level in a decade.
Luckily, Rhode Island's laws allow injured pedestrians to pursue a personal injury claim against drivers who hit people who move around on foot. If you were struck as a pedestrian, discuss your legal options with a Rhode Island car accident attorney.
Pedestrian Accident in Rhode Island
Rhode Island police are investigating a pedestrian collision in Westerly that left a woman seriously injured. The woman was taken to Westerly Hospital after being struck by a car on Post Road near the Aquastar Inn, according to the Portland Press Herald.
The accident happened at 7 p.m. on Friday. The female pedestrian was transferred to Rhode Island Hospital in Providence for further treatment for her serious injuries. The driver of the car was not injured. The investigation showed that neither speed nor alcohol appeared to be factored in the crash.
What to Do After a Rhode Island Pedestrian Accident?
The following steps are important if you were hit by a vehicle in Rhode Island:
Get medical attention. Documenting the extent and nature of your pedestrian accident injury is a vital step to protect your legal rights. Many pedestrians choose not to seek medical attention because the rush of adrenaline and stress following the collision masks their injuries.
Call the police. Or let witnesses call the police if you are unable to call the cops. A police report after a pedestrian accident will serve as a vital piece of evidence as the police may establish the motorist's fault at the scene.
Get the driver's insurance information. If the motorist who hit you while crossing the street remained at the scene, you should obtain his or her insurance information. However, avoid giving recorded statements to the driver's insurer if you get contacted following the collision. Let your Rhode Island car accident attorney handle your communication with insurance companies.
Understand your legal rights and options. It is advised to get in touch with a detail-oriented lawyer to review the specific facts of your case and determine your best course of action. Each case is unique, which is why you need legal advice from a qualified pedestrian accident lawyer to protect your legal rights and discover your options.
Medical bills associated with your injury can pile up in no time, which is why you need our Rhode Island car accident attorneys at Robert E. Craven & Associates to fight for the financial compensation on your behalf. Call our offices at 401-453-2700 for a free consultation.
Resources:
usnews.com/news/best-states/rhode-island/articles/2019-03-01/pedestrian-deaths-stay-steady-in-ri-increase-nationwide
pressherald.com/2019/11/09/pedestrian-in-rhode-island-seriously-injured-after-being-struck-by-car/
npr.org/2019/02/28/699195211/pedestrian-deaths-reach-highest-level-in-decades-report-says
https://www.robertecravenlaw.com/does-it-make-sense-to-sue-a-drunk-driver-in-rhode-island/