What's the Average Slip and Fall Accident Settlement in Rhode Island?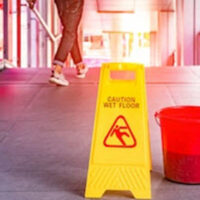 A personal injury attorney in Rhode Island or any other state often encounters clients who want to know the average payout for slip and fall injury settlements. And it makes sense why. After all, any injured person wants to know how much money they can expect to be able to plan their budget.
Since insurance companies, plaintiffs, or lawyers are not required to report their settlements to the state, calculating the average slip and fall settlement is complicated.
However, there is still a way to estimate your settlement after a slip and fall accident in Rhode Island.
Types of Damages in Your Settlement
The first step toward calculating your settlement is to determine the types of damages that you suffered as a result of your personal injury. Typically, damages are broken down into three categories:
Economic damages. These are the financial expenses ranging from medical bills, medication expenses, and emergency room bills to loss of income, diminished earning potential, and property damage, among others.
Non-economic damages. These are the damages that are not related to finances and are difficult to calculate. Depending on your situation, non-economic damages may include pain and suffering, disfigurement, emotional distress, psychological trauma, diminished quality of life, and many more.
Punitive damages. These are not available to everyone as they are awarded only if the defendant's wrongful conduct was malicious or intentional. Punitive damages are awarded for punishment and deterrence purposes.
Also, injured individuals in civil cases may be entitled to pre-judgment and post-judgment interest, which can substantially increase the final judgment total. The court automatically adds interest to the jury's verdict. In Rhode Island, the pre-judgment interest rate is 12% per annum. In other words, if it took the court three years to enter the judgment from the date of the accident, the court will add 36% of the verdict to the judgment.
How to Calculate Your Slip and Fall Settlement?
While economic damages are fairly easy to calculate by merely adding up all your expenses related to the slip and fall accident, non-economic damages are difficult to measure. After all, non-economic damages such as pain and suffering do not have a price tag on them. Attorneys consider many factors and use a variety of methods to calculate non-economic damages.
The most common methods used to calculate non-economic damages are:
The multiplier method. This one is the most straightforward way to determine non-economic damages because all you need is to multiply your medical expenses and loss of income by a certain number, which typically ranges from 1.5 to 4.
The weekly method. Under the weekly method, an attorney determines non-economic damages at a weekly rate or average. The method may apply if you can calculate how much your pain and suffering costs each week.
As you can guess, determining the average slip and fall accident settlement would be tough without knowing all the factors in someone's particular case.
After adding your economic, non-economic, and punitive damages, you will have your estimated settlement amount. However, do not forget that you may also be entitled to pre- and post-judgment interest. Consult with a Rhode Island slip and fall attorney to consider all factors related to your case to be able to calculate your settlement more accurately.
Contact our Rhode Island slip & fall attorney at Robert E. Craven & Associates to determine your estimated settlement amount. Call at 401-453-2700 to receive a case review.
Resource:
webserver.rilin.state.ri.us/Statutes/TITLE9/9-21/9-21-10.HTM
https://www.robertecravenlaw.com/can-a-rhode-island-bar-be-held-liable-for-your-slip-fall-injury/