Who's Liable for Your Injury on a Public Sidewalk in Rhode Island?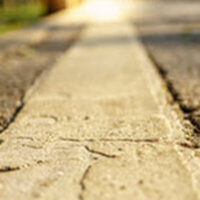 If you get injured in a slip and fall accident on private property, the owner of the property may be to blame for your injury. However, fault may not be immediately clear if you get injured on a city sidewalk or street in Rhode Island.
If there was a hazardous condition that caused the accident, who do you sue to recover damages? Should you file a personal injury lawsuit against the owner of the property adjacent to the sidewalk where the accident occurred? Or can you obtain compensation from the city, municipality, or another government entity?
Filing a Notice Against a Government Entity in Rhode Island
If you are suing a government entity in Rhode Island, you need to take into account special legal requirements that may apply. While the statute of limitations for personal injury claims against an individual or private entity is three years, there are special deadlines and notice requirements for claims against government entities.
If your slip and fall accident occurred because of a defect or dangerous condition on a public sidewalk or street, you could pursue a claim against the city, town, municipality, or any other government entity responsible for the maintenance of the area in a safe condition. Under the Rhode Island Gen Law § 45-15-8, you can make a claim against towns and cities when you suffered an injury due to a "defect, want of repair, or insufficient railing."
The Rhode Island Gen Law § 45-15-9 requires you to notify the government entity of the injury within 60 days. The notice must specify the time and place of the accident as well as the cause of your injury. After receiving the notice, the municipality will launch an independent investigation.
Why You Need a Rhode Island Slip and Fall Attorney
It is critical to be very specific when describing the location of the incident and detailing what caused your injury. For this reason, it is advised to be represented by a Rhode Island slip and fall attorney to help you investigate your particular case and file the notice to obtain compensation for your injury.
In many cases, it is necessary to attach certain documents to the notice in order to strengthen your legal action. These documents may include:
Photographs showing the dangerous or defective condition that caused your injury
Medical records
Lost wage records
Witness statements
If a victim cannot file the notice with the city or town clerk's office within 60 days, as required by state law, due to physical or mental incapacity, the period for submitting the notice can be extended. According to the Rhode Island Gen Law § 45-15-10, a victim may file the notice within ten days after the incapacity is removed.
Under the Rhode Island Gen Law § 45-15-5, you must also make a claim or demand against the municipality to seek compensation for your injury. If the government entity does not satisfy your claim within 40 days after receiving it, you may be able to sue the entity to recover damages. You can combine the claim with the notice when filing with the city or town clerk's office.
It is advised to contact an experienced personal injury attorney if you were injured in a slip and fall accident on a public street or sidewalk. Speak with our Rhode Island slip and fall attorneys at Robert E. Craven & Associates to help you make a claim against the municipality and obtain compensation on your behalf. Call at 401-453-2700.
https://www.robertecravenlaw.com/whats-the-average-slip-and-fall-accident-settlement-in-rhode-island/