Jury Awards Compensation To Girl Burned By A Chicken McNugget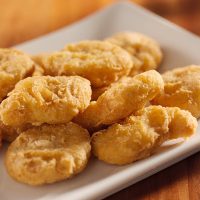 A jury has awarded a young girl $800,000 for injuries she sustained when she was burned by a McDonalds Chicken Nugget. The verdict has started an outcry from the public—but many cases where people are burned by items that are too hot are misunderstood by the public, and these are very real cases, with very real injuries.
The Hot Coffee Case
Most everyone knows about the infamous McDonald's hot coffee case. The case was so famous, a documentary was even made about it, called "Hot Coffee."
The case arose when a woman was burned when hot coffee spilled in her car, after she had picked it up from a McDonalds drive through. Many people laughed—how could someone sue for spilling hot coffee on herself? And isn't coffee supposed to be hot? What's negligent about that?
But many of the details of the case were never known by the general public. What was not publicized about the case was the fact that the coffee was served so hot that it instantaneously caused third degree burns to the woman's thighs; there were very graphic pictures of skin peeled off from the woman's thighs because of the coffee.
It was also not well publicized that the coffee maker was actually set at a much higher temperature than McDonalds corporate policy said it should be.
Chicken McNugget Burns Young Girl
A jury has now reached a verdict in a similar lawsuit, this one involving Chicken McNuggets that burned a young girl in 2019.
A Chicken McNugget fell on the girl's lap. The girl's mother heard her daughter scream; the chicken piece was so hot that it immediately burned and scarred the girl. The nugget had lodged itself in the seat belt, so it was in constant contact with the girl's leg. The girl was taken to the emergency room for burns.
The jury compensated the young girl $800,000 for her injuries, which included scarring. The verdict was technically against the McDonald's franchise owner, not McDonalds itself.
How Hot is Too Hot?
Many news reports have scorned the verdict. But the fact is that a chicken nugget—an item which, incidentally, is supposed to be eaten by your hands, not utensils—should never be served so hot that it can cause a burn to the skin.
The Nuggets were also served as part of a Happy Meal—a product designed to be eaten by children, who of course are prone to dropping and spilling things.
There are laws that give minimum temperatures for food, for safety purposes. But there is no law that dictates the maximum safety of food, meaning that there is little oversight over restaurants that serve food so hot that they can scald and burn people to the touch.
Have you been burned by, or injured by, food or a food product? Let us see if you can get compensation to help you with your injuries. Contact our Rhode Island personal injury lawyers at Robert E. Craven & Associates at 401-453-2700 today.
Sources:
nbcmiami.com/news/local/broward-jury-awards-800k-in-mcdonalds-hot-mcnugget-burn-lawsuit/3074475/
nbcmiami.com/news/local/fast-food-franchise-at-the-center-of-hot-food-lawsuit/1935824/
ttla.com/index.cfm?pg=McDonaldsCoffeeCaseFacts