No More Forced Arbitration For Sexual Harassment Lawsuits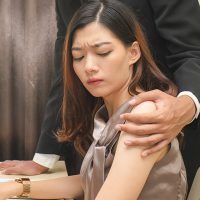 Many employers are well aware that sexual harassment of any kind can get them in trouble, and the victim of sexual harassment can not only file lawsuits under federal employment laws, but the victim may have lawsuits related to personal injury claims as well.
Employers Resort to Arbitration
To try to reduce liability for sexual harassment, a lot of employers resorted to forced arbitration clauses. These clauses, which could be separate agreements, or parts of employment manuals, said that the victim would have to arbitrate any claim related to sexual harassment.
Why Arbitration?
Arbitration is a process where parties to a lawsuit have their case heard by an arbitrator. The arbitrator acts as a judge, but doesn't have to be a judge. Many are other professionals. The case is often not heard in a courthouse, and the right to discovery—that is, the right to get information from the other side to prepare for trial—is often very much limited.
Most importantly when it comes to arbitration, is that because the arbitrator is hearing and deciding the case, that means the jury is not—litigants lose their rights to a jury.
Arbitration is often used in contracts—many businesses have them buried in the small type of their agreements. Many have been critical of whether they should be allowed or not.
Arbitration and Employment
Many employers have forced employees to sign arbitration agreements. That means that when they wanted to receive compensation for injuries that resulted from sexual harassment, whether in negligence, or harassment suits, their case would never see a courtroom, and never see a jury—only an arbitrator. It is estimated that about 60 million employees are forced to sign these clauses.
Congress Ends Arbitration in Harassment Claims
But congress has now ended that practice, at least for sexual harassment suits. The restriction had the support of both political parties, and now allows harassment victims full access to the courtroom. Many supporters cited the fact that it was not right for new employees to have to read fine print to make sure they could exercise their rights if they were harassed at work.
The restriction applies retroactively, although not to any lawsuits that are now pending. Additionally, arbitration will still be allowed to apply to consumers who use products, or services—this new restriction is only applicable to employees in the workplace.
The restriction also only applies to sexual assault. Other forms of discrimination, like gender discrimination, aren't covered in the bill (they still may be illegal, it's just that forced arbitration clauses are still OK in those circumstances).
Employees can still opt for arbitration, should they prefer it—they just won't be forced into going to arbitration for sexual harassment claims.
You may be able to sue for damages, if you have been a victim of harassment. Our Rhode Island personal injury lawyers at Robert E. Craven & Associates are here to help, if you have been a victim. Call 401-453-2700 today.
Sources:
natlawreview.com/article/mandatory-arbitration-agreements-no-longer-enforceable-sexual-harassment-or-assault
nbcnews.com/politics/congress/senate-passes-bill-ending-forced-arbitration-sexual-misconduct-cases-rcna15657