Injuries To Kids: Who Is Responsible?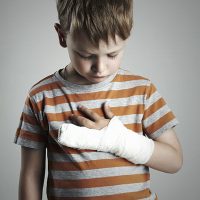 When kids get injured, we often tend to blame it on being a child. Kids are reckless, wild, and we often tell our kids "you should have been more careful" when they get injured. We also are often torn between the desire to let kids play, and "just be kids," and the desire to protect our kids, at the risk of overprotecting them.
But childhood injuries are serious, and in many cases, others may be responsible for the injuries that our kids sustain.
Poor or Negligent Supervision
Often, kids are injured while under another's supervision. For example, a child may be injured on a playground, and at first, that may look like a totally expected injury, that nobody could be at fault for. However, a closer look may reveal details that say otherwise.
Was the playground equipment faulty? Was the child being properly supervised? Kids in schools, summer camps, or day cares should not only be monitored by adults, but there should be enough adult supervision to adequately look after the kids.
That adult supervision should be attentive enough to not only recognize, and stop, dangerous horseplay, but also to stop abuse or aggression that kids may inflict on each other.
Where are the Kids Playing?
Of course, a playground is often outdoors, and no outdoor, natural surface is perfect. But there are certain things that property owners can do to keep the property as safe as possible. Was the child injured by falling over a crack in the pavement? Or an overgrown tree root? Or some other condition that was preventable and avoidable?
Safety in Homes
Supervision also comes into play when someone is at another child's home. The adult who was (supposed to be) supervising may say that your child "just fell and hurt himself." But was the child being watched? Often, parents will have more kids in a household than an adult can reasonably watch. Negligent supervision claims for homeowners who have too many kids visiting at their home, are common.
Supervisors also come into play when businesses come to kids homes, for birthday parties, or when they set up in parks.
It's easy to say that a child's injury in a bounce house was to be expected. But were there too many kids in the bounce house at once? Were older, heavier kids allowed to bounce with the smaller, lighter kids? Was the attendant on duty monitoring the situation and could he or she have done something to avoid the accident from happening?
These are all questions to ask, when a child gets injured. At the very least, you should never assume that a child's injury is just a kid being a kid. It may not be. There may be someone responsible for keeping your child safe, who didn't do their job.
Our Rhode Island personal injury lawyers at Robert E. Craven & Associates are here to help if a child has been injured because of someone else's carelessness or negligence. Call 401-453-2700 today.