The EDR: Your Car's "Black Box"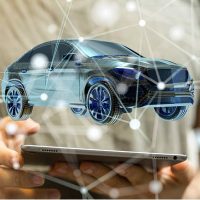 When an airplane crashes, you may already know that the plane has what is called a black box. That box records all the information about the plane, allowing investigators to piece together what happened and to see what went wrong. The boxes are generally indestructible, meaning they can be recovered in even the worst circumstances.
Cars Have Black Boxes Also
But did you know that if you drive a modern car, your vehicle also has its own version of a black box? In your car, it's more commonly called an event data recorder, or EDR. The inclusion of an EDR in any vehicle is not actually required by law, but almost every modern manufacturer includes them. You can search online to see if your car has one, as the list of makes and manufacturers that have EDRs is publicly available.
You cannot remove an EDR; they are often hardwired into the systems of your cars, and trying to remove the EDR would cause irreparable damage to your car, or at least to vital systems in your car.
Some Controversy
These EDRs have even been the subject of criminal cases, where police will try to get data from the EDR, to see how an accident happened, or to see how a criminal defendant was driving at the time of criminal activity involving the vehicle. In many cases, use of the EDR information by police was found to be a search and seizure, activity that is limited by the United States constitution.
Use in Injury Cases
In personal injury cases, the information in an EDR can also help piece together what happened in an accident, and can be especially useful when there are conflicting recounts of how an accident transpired, or questions or conflicts about the behavior of the driver of a vehicle. The EDR can indicate when breaks were pressed, the speed of the car, activity of the infotainment system, and behaviors of the car's driver.
Unlike a plane's black box, however, most EDRs will only retain and record information from a few seconds before to a few seconds after an accident.
Experts trained in extracting and interpreting EDR information may need to be retained to get and read EDR data. These experts are often trained in what is known as Crash Data Retrieval, or CDR.
When is EDR Information Used?
EDR information is not used in every car accident case; in some there is no dispute about how an accident happened, and in some cases the potential damage award is not significant enough to warrant the costs involved with getting EDR information.  But where it is used it can be powerful and convincing evidence in front of a jury.
Contact our Rhode Island personal injury lawyers at Robert E. Craven & Associates at 401-453-2700 today for help getting the evidence you need in your injury case.
Sources:
nhtsa.gov/research-data/event-data-recorder
exponent.com/services/practices/engineering/vehicle-engineering/capabilities/automobile-event-data-recorders/