Questions To Ask When Choosing An Injury Attorney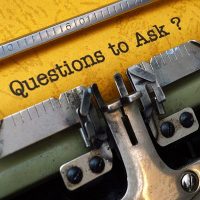 Let's say that you are injured in an accident, and you know it's time for you to get a personal injury attorney. That's a good choice–many people make the mistake of trying to handle their case alone. But now that you've made that choice, comes the next decision that you have to make–which personal injury attorney should you choose.
You can go by word of mouth, but bear in mind that everybody's case and experience is different–you are trying to find the attorney that's right for you, not someone else. So when you are calling or speaking to attorneys, what kind of questions should you ask, to see if the attorney is someone who is qualified to handle your case?
Do you speak to the attorney when you call?
Not every question requires the attorney for an answer–law offices are staffed with highly qualified paralegals, legal assistants and law clerks that can often answer your questions. But often, you do need to speak to an attorney. So when you call and you do need to speak to the attorney, will you be able to? How available is the attorney to speak to when you call?
What kind of Personal Injury Does Your Attorney Handle?
Many attorneys handle car accident cases. Some handle medical malpractice, some don't. Some handle nursing home, or product liability cases and some don't. So when an attorney says he or she handles "personal injury" make sure that includes the type of personal injury case that you have.
Does Your Attorney Take Cases to Trial?
Many personal injury lawyers never see the inside of a courtroom; they often prefer to settle the case before a lawsuit is filed, or before going to trial. Sometimes, that's a smart decision–not every case is right for trial. But if yours is, will your attorney know how to handle a personal injury trial?
What Defenses Can I Expect?
Even if your case seems perfectly winnable, the Defendant will certainly have defenses. What are they? What can you expect the other side to say? Your attorney won't know all the Defenses that may be raised by the other side early in your case, but he or she should be able to give you a  rundown of what you can reasonably expect to happen.
How Will My Bills Get Paid?
A good personal injury attorney will understand how insurance works, how and if your doctors will wait for their payment, and generally have an appreciation of the financial hardships that injury victims often face. Your attorney should approach these kinds of questions with not just knowledge but understanding.
How Can I Help?
Even though you are the client and not the attorney, asking your attorney how you can help your own case is a good way to get to know your lawyer, and to see what he or she will expect of you.
Contact our Rhode Island personal injury lawyers at Robert E. Craven & Associates at 401-453-2700 today to see how we can help you with your personal injury case.