What Happens In A Personal Injury Mediation?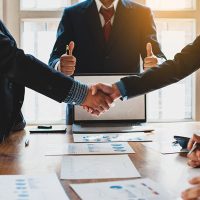 There is a perception that whenever you file a personal injury case, that your case will eventually go to trial. But in truth, few cases do go all the way to trial—they will settle before trial.
One way that they will settle is through a process called mediation. Many personal injury cases will have to go to mediation before trial—whether because they are ordered to go by the court, or whether because the parties opt to mediate.
What is Mediation?
Mediation is a process where you, the other side, and a mediator, sit down together and try to settle your case. You'll notice the words "try to settle." That means that nothing is forced on you—you do not have to settle your case, the mediator is not making any decisions and he or she is not a judge (well, the mediator may actually be a judge, but he or she is not judging your case in mediation).
The mediator's sole job is to try to get both parties to "meet in the middle," in order to come to some kind of settlement. In this way, mediation gives you more control over the outcome of your case than a trial may, where a judge or jury are making the final decisions for you.
Confidentiality in Mediation
One great thing about mediation, is that everything said in mediation is totally confidential—it can't be written down, or used in court later on if the case doesn't settle. This allows the parties to speak openly and honestly, and to address the strengths and weaknesses of their respective cases.
Any offers made in mediation are also confidential. That means that if you try to put your best foot forward and offer to settle your case for a smaller sum of money, you won't be held to that offer later on-you can still ask for more, if the case doesn't settle at mediation.
The Mediation Process
In mediation, both sides will give a quick statement about the strengths of their cases. There is no evidence presented, so usually the statements are just both sides doing some "posturing," in order to show the other side why they would be best to settle the case. The parties will tell the other side what evidence they would use or present, when and if the case went all the way to trial.
After that, in some mediations, the parties will go into separate rooms, so that they can discuss matters in private, and the mediator will go back and forth between the sides, in an effort to make a settlement happen. You, as the victim, may be asked some questions by the mediator—but again, nothing is being written down, and the questions are usually just to help the mediator understand the case.
If the parties do agree to settle the case, the case will be over once a settlement agreement is signed. If the parties cannot settle, the case will proceed as normal. The parties can always agree later, after mediation, to settle the case, in order to avoid trial.
Our Rhode Island personal injury lawyers at Robert E. Craven & Associates are here to help you understand the process of your personal injury claim, from start to finish. Call 401-453-2700 today.