What Is A Products Liability Lawsuit, And When Is A Manufacturer Liable For Injuries?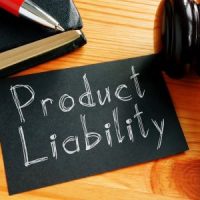 When you turn on the news, you often hear about product recalls, or class action lawsuits against makers of dangerous products. But what is a defective product? When can someone sue for being injured by a defective product?
Defective Products
As a general rule, anytime a product acts differently than it should, and causes injury, there can be a product liability lawsuit. You, as the victim, can hold everyone responsible for the making, manufacturing, and selling of that product, liable for your injuries.
That's right—even the seller, who may have nothing to do with how the product was made, can be liable for your injuries. This is done to encourage sellers to pull dangerous products from its shelves.
In a products liability case, there is strict liability. That means you don't have to prove that a manufacturer or retailer knew or should have known that a product was dangerous. Saying "we thought it was safe," is not a defense. So long as the product is defective, and so long as it causes your injury, someone is liable to you for the injuries that you have suffered.
Types of Products Liability Lawsuits
There are two major kinds of product liability lawsuits. One is called a manufacturing lawsuit, which involves a manufacturing defect. A manufacturing defect is when one product is made differently than it's supposed to be. All the other products are fine—it's just the one that injured you, which is defective.
Airbags often fall into this category. Imagine every airbag in a particular car model operates just as it's supposed to, without any problems. However, the sole airbag in your car malfunctions—it is not calibrated correctly, packed correctly, or the computer seniors in it don't work correctly. The airbag deploys incorrectly, and you are injured.
There is not a problem with every single airbag in every model of that brand of car—just in your car. Your airbag was a "one off," an anomaly. That is a manufacturing effect.
Design Problems
A design defect is much different. This is where every one of the products is made the same, and the product performs as it was designed to perform—the problem is, even when performing the way it's supposed to, the product is dangerous.
A recent example of this is the U.S. military's lawsuit against 3M earplugs. The earplugs, according to the lawsuits, didn't have sufficient warnings, didn't provide the correct instructions on their use, and didn't protect soldiers' ears, causing hearing loss. The earplugs performed exactly as they were supposed to perform. The problem is that even when they operated the way they should, they were still dangerous (that is, they didn't work).
Often, product liability suits may require the use of expert witnesses to show how a product is defective, or how it could have been designed better. Your attorney will find an expert witness that can help evaluate your case.
Our Rhode Island personal injury lawyers at Robert E. Craven & Associates are here to help you understand your personal injury trial. Call 401-453-2700 today.
Sources:
law.cornell.edu/wex/manufacturing_defect
nytimes.com/2022/01/28/us/veterans-earplugs-3m-lawsuit.html