What Is Negligent Security?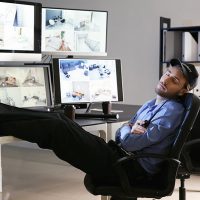 If you are attacked in a parking lot, in a movie theater, in a bar, or on anybody else's property, you probably know that the attacker is responsible. But is the property where the crime was committed against you responsible?
You can hold business and property owners responsible for injuries that you sustain on their property because of criminal activity, in what is known as a negligent security case.
Negligent Security and Foreseeability
To understand negligent security, you need to understand foreseeability. Foreseeability says that a business or person has to take measures to make their property safe against accidents, injuries, or events that are reasonably foreseeable, based on the information available to the Defendant (the business owner) at the time.
So, let's say that a business owner is in an area where there is a very high crime rate. Maybe the business itself has been victimized by crime in the past.
Local police departments keep crime grids, showing what kind of crime happens where, and these grids are often used in negligent security cases to show that a business was located in an area where there is a high likelihood of crime.
Or, perhaps the business is one where crime is likely to happen, such as a bar, where intoxicated people are known to do things without concern for the law. Stores that sell expensive goods may be able to foresee their customers being crime victims, given that criminals are likely to target people with money, or people who walk out of the store carrying expensive goods.
These are just examples but there are other ways that a business can foresee that there is a good chance that they, or their customers, could be victims of outside crime.
What Should Business' Do?
When crime becomes foreseeable, a business owner has to take measures to keep its customers safe from that crime. That can include using human security guards, or non-human security, like video surveillance, gates, metal detectors, better lighting in isolated areas, or other barriers.
The level of security needed will depend on the business. A supermarket may not need any human security guards at all–unless the parking lot has had a lot of crime, when a human guard may be needed for parking areas. A rowdy college-age nightclub may need multiple trained security guards.
Using Experts
How do you know what security should have been used, or that the security used by a business was insufficient? Often, experts in security are used to prove that a business' security measures were inadequate.  The expert will look at the nature of the business, the surrounding crime, and the differing anti-crime tactics that are available. To help you prove your negligent security case.
A crime may not just be a crime–it could be that a business didn't do what it was supposed to in order to protect you. Contact our Rhode Island personal injury lawyers at Robert E. Craven & Associates at 401-453-2700 today if you are a crime victim, as you may be allowed to sue for compensation for your injuries.