Should You Sign A Confidentiality Agreement When You Settle Your Case?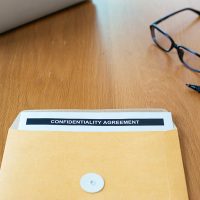 If you settle your personal injury case, the Defendant will want you to sign a settlement agreement. Your attorney will review the agreement with you, and discuss its terms, but one thing that's nearly universal in settlement agreements, is a confidentiality agreement. Should you sign a settlement agreement that has a confidentiality agreement?
Types of Confidentiality Agreements
As the name suggests, a confidentiality agreement is where you agree to keep the facts of the case forever secret. Some agreements will require that you keep the settlement terms completely secret, and some will go a bit further, and require that you keep all the facts and circumstances about the accident or the lawsuit, completely secret. There are often exceptions for legal, tax or medical purposes.
Many confidentiality agreements may have penalties in them for breaching their terms. Some may require you to pay back any money that you were paid as part of the settlement, while others will have a set figure of what you would owe, if you violate the agreement.
Should You Sign One?
Obviously, if you are intent on posting your settlement on social media, or telling everyone you work with about your settlement or the facts of your case, you should not sign a confidentiality agreement. But confidentiality agreements don't just prevent you from having "a big mouth." Technically, a confidentiality agreement would prevent you from even telling friends, or family members around the dinner table about your case or settlement.
In today's age, where everybody seems to make TikTok videos or Facebook posts, the confidentiality agreement would end up preventing you from doing that as well.
Who Would Know?
It is impossible to say whether the Defendant would ever know if you violated the confidentiality agreement. Certainly, there is less of a chance of the Defendant knowing if you are just discussing the matter in private with your wife or husband, than if you are discussing it over the water cooler at work.
Non Disparagement Clauses
Some clauses go beyond the facts of the case, and end up being what are known as non-disparagement clauses.
These not only prevent you from discussing the settlement or the accident, but prevent you from saying anything negative about the Defendant at all, whether related or unrelated to the accident. Simply saying "Neighborhood bank is a bunch of jerks," or "That restaurant is careless," could get you in trouble for violating the non-disparagement clause—this is especially true if you were to post these complaints online.
A Personal Choice
Whether to agree on a confidentiality clause, and how broad it should be, is a personal choice. Obviously, you may be willing to agree on a more restrictive clause, if the settlement sum is higher. If you are an activist, and want to tell the world about what the Defendant did, or about what happened to you, you may be less inclined to want to agree to confidentiality.
Our Rhode Island personal injury lawyers at the office of Robert E. Craven & Associates are here to help you through every part of your injury case. Call 401-453-2700 today.