Why Do Personal Injury Cases Take Time To Resolve?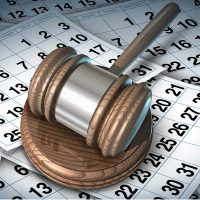 You hear many stories about some personal injury cases that take years before the victim gets a settlement or wins a jury verdict. These stories of cases taking a year or more are likely true–but why?
Remember that not every case takes a long time to resolve. Some cases will resolve relatively quickly. But in most cases, if you get a settlement, it may be longer than just a few weeks. But why is that, and is there something you can do to speed your case up?
Your Medical Prognosis
One reason why cases can take time to resolve, is that before your attorney presents your case to the insurance company or the Defendant, he or she needs to see how well you have healed, and what your future medical prognosis is. This can take time, because everybody heals from injuries very differently.
It can be frustrating, but waiting longer, to see how you do medically, is to your benefit. You don't want to sell yourself or your case short by settling before you actually know how injured you will be in the long term.
If you resolve your case now, and then find out in two months that you will need follow-up surgery, or that your back hasn't healed the way doctors had hoped, or that you have developed arthritis because of your injuries, these all have a value–value you would have lost, had you rushed to settle and thus end your case early.
Negotiations
Once your attorney does know how injured you are, there will then be a period of time when your lawyer tries to settle the case with the Defendant or the insurance company. This "back and forth" can result in a settlement, but it does often take time, as both sides consider offers and make counter-offers.
Lawsuits and Court Schedules
If you can't resolve your case with the insurance company, you will then have to file a lawsuit, and prepare your case for a possible trial.
A diligent personal injury attorney can move your case through the court system as quickly as possible.
However, even the best attorney is limited by things out of his or her control, such as the court's schedule, or the schedules of witnesses who need to be deposed before your trial. Defendants often try to hide evidence that you need to prove your case, and it may take time to force them to hand over the information needed.
Getting experts can also take time, as can those experts' investigations–all of which are needed to present your case to a jury, if it goes to trial.
Stay Positive
Don't be dismayed by the time a personal injury case takes. While your case is going on, your attorney will help you work with your insurance to do things like get your car fixed, or keep your medical bills from going into collections.
We stay on top of your case, and move it along to help you as quickly as possible. Contact our Rhode Island personal injury lawyers at Robert E. Craven & Associates at 401-453-2700 today.
Sources
enjuris.com/personal-injury-law/maximum-medical-improvement.html