Determining Liability in a Dump Truck Accident in Rhode Island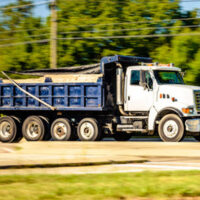 Dump trucks are everywhere on Rhode Island's roads. Motorists encounter dump trucks on the roadway almost every day. It is known that dump trucks pose more danger to other drivers and pedestrians than regular motor vehicles, but what makes them so dangerous?
Typically, a dump truck can carry about seven tons of weight, while their own weight is at least 12 tons. Given the sheer size of dump trucks, it is not surprising that auto accidents involving dump trucks cause the third-highest number of injuries among all large trucks.
Determining liability in a dump truck crash may be complicated, which is why it is advised to hire an experienced car accident attorney in Rhode Island to help you establish fault and recover damages.
Dump Truck Accidents in Rhode Island
When a dump truck accident occurs in Rhode Island, victims are likely to suffer catastrophic and life-threatening injuries. This was evident from a recent accident involving a dump truck on Route 44 in Rehoboth, Massachusetts.
As reported by The Sun Chronicle, three people were injured in a multiple-vehicle crash that involved a dump truck. Two of the victims who were trapped in two SUVs suffered life-threatening injuries. They had to be extricated by Rehoboth Fire and Ambulance. The victims were taken to a hospital in Providence in Rhode Island. The cause of the crash is still under investigation.
Causes of Dump Truck Accidents
Dump truck accidents can be caused by a variety of factors, ranging from driver error (negligence) to adverse weather conditions. The vast majority of car accidents involving dump trucks are caused by either party's negligence or carelessness, which is why it is vital to establish fault in your particular case.
Common causes of dump truck collisions are:
Unsafe turns
Failure to yield the right of way
Speeding
Failure to maintain a safe distance between vehicles
Driving too fast or too slow for conditions
Poor road conditions
Adverse weather conditions
Poor vehicle maintenance
Driver fatigue (fatigued driving)
Driving under the influence
Distracted driving
Mechanical issues or automobile defects
Overloading or improper loading of cargo
Failure to enforce driving hours
Failure to properly hire or train drivers
There are special requirements and regulations for dump trucks in the United States. These large vehicles are regulated by the Federal Motor Carrier Safety Administration (FMCSA). When dump truck drivers or trucking companies fail to meet the regulations imposed by the federal agency, and someone gets hurt, the victim may be able to pursue a personal injury claim against the driver or their employer.
Liability in a Dump Truck Crash
Depending on the facts surrounding your dump truck accident, the following parties may be held liable for your damages and losses:
The trucker's employer. If the dump truck accident occurred in the course of the trucker's employment, their employer would be held liable for the crash.
The truck owner or leaser. The party that owns or leases the dump truck may also be responsible for the collision, especially if the vehicle had mechanical or maintenance issues.
The driver of the dump truck. If the driver of the dump truck was not driving as part of their work-related duties when the accident occurred, they could be held solely responsible for the crash.
Government entities. When a dump truck collision is caused by poor road conditions, the victim may sue the government entity that controls and maintains the part of the road where the collision occurred.
Schedule a consultation with our Rhode Island personal injury attorney to determine liability in your dump truck accident. Contact our lawyers at Robert E. Craven & Associates for a case evaluation. Call at 401-453-2700.
Resources:
thesunchronicle.com/news/local_news/three-hurt-two-seriously-in-rehoboth-crash-involving-dump-truck/article_22cb6e69-085d-5daf-9a5b-8811ff6ed059.html
fmcsa.dot.gov/sites/fmcsa.dot.gov/files/docs/safety/data-and-statistics/452366/ltcbf-2017-early-release-3-13-2019.pdf
https://www.robertecravenlaw.com/negligence-and-compensation-in-gas-explosions-in-rhode-island/