How to Report a Car Accident to Your Insurance Company in Rhode Island?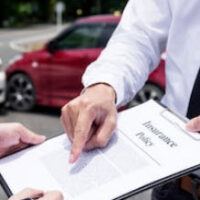 If you have been injured in a car crash in Rhode Island, you may not know how to report the accident to your insurance company. You are required to report a car accident to your insurer properly and in a timely manner in order to be eligible for compensation.
Also, it is best to seek medical attention right away because failure to do so may jeopardize your personal injury claim. Consult with a Rhode Island car accident attorney before speaking with an insurance adjuster. You need a legal representative by your side to ensure that your claim is handled fairly.
Reporting a Car Accident to Rhode Island Insurance Company
After a car crash in Rhode Island, you can report the accident to your insurer in one of the following ways:
calling the number specified on your insurance card;
going to the insurance company's website;
using the insurer's app.
When reporting a car accident, you are required to provide your insurance policy number, full name, and expiration date of your policy. After the insurer identifies you, you can provide:
a general description of the crash
date and time of the accident
the number of parties involved in the collision
the driver's licenses, license plate numbers, and insurance information of all the parties involved
After reporting the crash to your insurance company, the insurer will begin processing and investigating your claim. Under the Rhode Island Gen L § 27-18-61, an insurance company is required to pay all complete claims within 40 days of receiving a written claim or within 30 days of receiving an electronic claim.
If a claim is denied, the insurer must provide notice to the policyholder and their healthcare provider explaining the reasons for the denial of the claim. The notice must be provided within 30 days of receiving the claim.
What Should You Tell Your Insurance Adjuster?
After reporting a car accident to your insurance company, you will most likely be contacted by a claims adjuster. The things you say will have a major impact on your personal injury claim, which is why it is advised to exercise extreme caution when talking to the adjuster.
These are the four golden rules of talking to an insurance adjuster to maximize the value of your claim in Rhode Island:
Say That You Have Been Injured
If you suffered an injury in a car accident, inform your insurance company of your injury. However, do not try to diagnose your injury yourself. Instead, wait for the results of a medical examination conducted by a professional. Also, do not forget that some car accident injuries have delayed symptoms and may not show right away.
Do Not Give a Recorded Statement
You have a right to refuse to provide a recorded statement. Anything you say when giving a recorded statement can be used against you to deny or undervalue your claim.
Stick to the Facts and Do Not Speculate
When reporting the accident or talking to an insurance adjuster, it is best to stick to the facts and avoid speculations. It is not uncommon for insurers to use manipulative tactics to get you to provide as much information as you can.
Do Not Accept a Settlement Offer
Initial settlement offers made by insurance companies are almost always unfair, which is why it is not advised to accept a settlement offer without consulting with a Rhode Island personal injury attorney first.
Reach out to our car crash attorneys in Rhode Island to assist you with reporting your accident to the insurance company. Contact Robert E. Craven & Associates to receive a case review. Call at 401-453-2700.
https://www.robertecravenlaw.com/do-prescription-medications-impair-a-motorists-ability-to-drive-safely/