Pedestrian Accident Cases Are More Difficult Than You May Think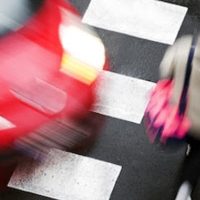 You would think that when a car hits a person, that the case is relatively straightforward; cars aren't supposed to hit people and drivers should always be on alert for pedestrians. But the reality is otherwise—pedestrian cases can be very difficult cases for the victim to win, for a number of reasons.
Crossing Where They're Not Supposed to Cross
We have probably all observed pedestrians that cross where there are no crosswalks, or who may dart out in front of traffic, or who sprint across multiple lanes of traffic. The fact is that many pedestrians either don't know what the rules of the road are for pedestrians or else, they purposely don't follow those rules.
Major urban areas may even lack accommodations for pedestrians, like pedestrian bridges, or crossing signals, or signals may be so small that they can't clearly be seen across a multiple lane highway.
Whose Fault is it?
Unfortunately when pedestrians are hit by cars, the drivers usually use the pedestrians' failure to follow the rules of the road, as a defense. They allege that it is the pedestrian's fault that he or she was hit, for failing to cross in a designated area, or for crossing in a crosswalk but without a crosswalk signal that signals that it is safe to cross.
This is why pedestrian accidents often come down to who could have avoided the accident. A pedestrian who wasn't following the road, and was hit by a car can still win his or her case. The question is whether the car, or the pedestrian had a chance to avoid an accident.
In other words, even if a pedestrian wasn't following the rules of the road, it doesn't give a car driver carte blanche to hit the pedestrian. If a driver can avoid a pedestrian, the driver has an obligation to do so, no matter whether the pedestrian was abiding by pedestrian rules of the road or not.
Prejudice or Bias?
There also may be an inherent bias against pedestrians. More people drive than walk in many cities or areas. Many of us have observed pedestrians darting in front of traffic.
That means that jurors may be more likely to sympathize with a car's driver. There may be an assumption that when a pedestrian is hit, that he or she probably wasn't following the rules of the road. And more jurors have probably come close to hitting a pedestrian, than have come close to actually been hit as a pedestrian.
No Memory
Pedestrians often don't remember how an accident happened, given the trauma they sustain in the accident. Whereas a car driver will often recall how an accident happened, a pedestrian almost never will, unless the accident is very minor. This puts the pedestrian at a disadvantage in a "he said she said" situation.
Were you injured as a pedestrian? Contact our Rhode Island personal injury lawyers at Robert E. Craven & Associates at 401-453-2700 today.
Sources:
casetext.com/regulation/code-of-massachusetts-regulations/department-720-cmr-department-of-highways/title-720-cmr-900-driving-on-state-highways/section-909-pedestrian-regulations
wwlp.com/news/massachusetts/new-bicyclist-pedestrian-safety-law-now-in-effect-in-massachusetts/