What Does A Jury And A Judge Do In A Personal Injury Trial?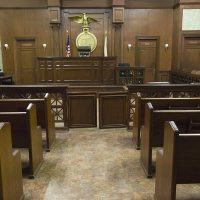 When it comes to court, you may hear your attorneys talk about what the judge will do with certain things concerning your lawsuit. But then, you may hear your attorney talk about what the jury will do, or how the jury will decide. This may lead you to wonder, what exactly does the judge do, and the jury do? In other words, what does each decide on in your case?
In your personal injury case, the judge will make decisions of law and the jury will make decisions of fact. The best way to illustrate this is with some examples.
The Jury and Questions of Fact
When it comes to decisions of fact, these are disputes that you and the Defendant may have about any fact in the case. For example, you and the Defendant may disagree on:
-Whether the Defendant ran a red light or not
-Whether the Defendant should have seen a spill on the floor or not
-Whether the Defendant acted the way a diligent and safe doctor would have acted
-How injured you are, and the nature, extent, and permanency of your injuries
There are many more, and the facts that need to be determined vary from case to case. But as a general rule, factual disputes are determined by a  jury–that includes the extent of your injuries or financial damages, which is why the jury and not the judge will determine not only whether you get financial compensation, but how much.
What Does the Judge Do?
During the case, there are a lot of legal issues that may come up, that the judge will have to rule on. Many of these decisions will be made during the trial, but many are determined in the months between the time the lawsuit is filed and the date of your trial. Things that a  judge may determine include:
-What information or evidence each side has to turn over to the other
-What questions can be asked of both parties at deposition
-Whether both sides' experts will be allowed to testify
-Whether there is any evidence that the jury simply should not be allowed to hear
The judge will conduct the trial, and make on-the-spot decisions about who can testify, and will determine whether a witness should be allowed to answer any questions that may be challenged by (objected to by) the other side.
In the case someone does something wrong, such as losing evidence, or saying something in front of the jury that the jury was not supposed to hear, the judge will determine what the sanction or punishment should be.
In the end, both the judge and the jury are equally important, although they have distinct roles from one another.
We can take your personal injury case to trial if needed. Contact our Rhode Island personal injury lawyers at Robert E. Craven & Associates at 401-453-2700 today.
Sources:
scholarship.law.wm.edu/cgi/viewcontent.cgi?article=1783&context=facpubs
openyls.law.yale.edu/bitstream/handle/20.500.13051/10739/52_18YaleLJ404_1908_1909_.pdf?sequence=2