How Are Damages Determined in Rhode Island Personal Injury Cases?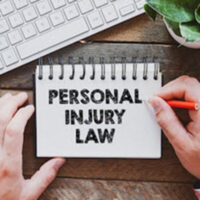 Every person who was hurt in a car accident is curious as to how much money they can recover. Since each case is different, it is advised to hire an experienced Rhode Island personal injury attorney to determine and calculate damages in your unique case.
Economic and Non-Economic Damages in a Personal Injury Case
In order to determine damages in a personal injury case, you need to calculate your actual costs, also known as economic damages. These damages include:
Medical expenses
Lost wages
Therapy and rehabilitation costs
Property damages (i.e., the cost of repairing your damaged vehicle)
Out-of-pocket expenses
These damages are easy to calculate. All you need to do is review your bills and receipts and add up all of your actual damages as a result of your injury. Non-economic or general damages are harder to calculate.
Pain and suffering account for the largest percentage of non-economic damages. A knowledgeable attorney can help you examine the effects of your accident and personal injury on your life, day-to-day activities, relationships, earning capacity, and many more.
How to Calculate Personal Injury Damages?
Most often, insurance companies and juries rely on the "multiplier method" to calculate non-economic damages in personal injury cases. As its name implies, the multiplier method is applied by multiplying the total actual damages by a figure ranging from 1.5 to 5, depending on the severity of the victim's injury and other factors.
Another popular method of calculating damages is the "per diem" method. The method works by assigning a set "per day" value. The victim receives a set amount of money for each day they struggle with pain and suffering.
In many cases, the "per diem" value is the amount the victim would have earned daily had they not been injured. If your personal injury case goes to trial, it is important to be represented by a skilled lawyer to maximize your settlement award.
Rhode Island's Comparative Fault in Personal Injury Cases
Whether your own negligence contributed to your injury in a car crash or any other type of accident in Rhode Island will also affect the total recoverable amount in your case.
Under the Rhode Island General Laws Section 9-20-4, Rhode Island follows the theory of "pure comparative fault," which means the injured party's compensation is reduced by their own percentage of fault.
If you contributed to your accident, the jury would assign a percentage of comparative fault to you, as the victim, and the defendant. Your total settlement award will be reduced by the percentage of your negligence in the accident.
For example, if your settlement award totals $500,000, but you were found to be 20% at fault, you will receive only $400,000. In Rhode Island, you have three years to pursue a personal injury claim through the civil court system to seek compensation for your damages.
Contact our skilled personal injury attorneys in Rhode Island to calculate damages in your particular case. Our lawyers at Robert E. Craven & Associates can help you hold the other party responsible for your injury and help you recover damages on your behalf. Call at 401-453-2700 to schedule a consultation.
https://www.robertecravenlaw.com/complaints-of-excessive-police-force-will-now-be-investigated-by-rhode-islands-attorney-general/