Are Mopeds a Safer Alternative to Motorcycles and Cars in Rhode Island?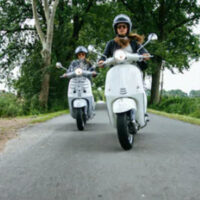 Mopeds are a great alternative to motorcycles for people looking for an environmentally friendly way to travel within the city. Mopeds are easy to ride and affordable to maintain, which is why an increasing number of Americans of all ages purchase these two-wheeled vehicles.
As beach areas in Rhode Island, including Block Island, are becoming more congested by the year, more residents opt for mopeds to get around. Unfortunately, while mopeds are easy and fun to ride, it does not change the fact that operating a moped can lead to a devastating auto accident.
This was evident in a recent moped accident in Rhode Island. As reported by WJAR, a 22-year-old moped rider died following a collision with an SUV. The deadly crash occurred at 2:20 p.m. on Block Island. A female moped passenger was hospitalized with non-life-threatening injuries following a head-on collision. Both the rider and the passenger were wearing helmets at the time of the accident.
Are Mopeds Safer Than Motorcycles and Cars?
Mopeds are mistakenly believed to be a safer alternative to cars and motorcycles. It may seem that mopeds are much safer simply because they cannot travel faster than 30 miles per hour. While mopeds in Rhode Island cannot go faster than 30 mph, other motor vehicles travel much faster.
Thus, even the most careful moped rider can be injured in a vehicle crash if the other motorist is negligent. In fact, moped riders are more likely to suffer serious and life-threatening injuries because mopeds do not offer the same level of protection as cars do. Mopeds are not equipped with airbags or seat belts to minimize the severity of injuries in the event of a collision.
If you were injured in a moped accident in Rhode Island, it is important to seek legal advice from an experienced personal injury attorney to determine liability in your case and obtain the compensation you deserve.
What Are Moped Laws in Rhode Island?
Rhode Island law defines mopeds as vehicles that have two wheels and are propelled by either human or helper power or both. A moped's engine has a cylinder capacity of less than 50 cubic centimeters, and mopeds cannot travel faster than 30 mph.
In Rhode Island, an individual must have a valid standard driver's license in order to operate a moped. Contrary to popular belief, you are not required to have a motorcycle license to ride a moped in Rhode Island.
All moped riders in the State of Rhode Island are required to register with the state's Department of Motor Vehicles and get regular inspections. Unlike some other states, Rhode Island does not require all moped riders to wear a helmet at all times.
In Rhode Island, riders under the age of 21 and those who have just obtained a license are required to wear a helmet while operating a moped. However, operating a moped without a helmet increases the risk of a serious injury no matter how experienced the rider is.
Moped riders are required to follow the standard traffic laws in Rhode Island as all other motorists. However, since mopeds cannot travel faster than 30 mph, moped riders cannot drive on roads with a minimum speed of more than 30 mph.
If you were hurt in a moped collision in Rhode Island, do not hesitate to speak with a skilled personal injury attorney to establish fault in your case. Contact our Rhode Island car accident lawyers at Robert E. Craven & Associates to schedule a case review. Call at 401-453-2700 today.
Resources:
turnto10.com/news/local/moped-accident-leaves-one-person-dead-on-block-island
moped2.org/laws/Rhode-Island.htm#:~:text=Moped%20definition,they%20cannot%20excede%2030%20mph.
https://www.robertecravenlaw.com/6-tips-to-stay-safe-as-a-pedestrian-and-prevent-pedestrian-accidents-in-rhode-island/