6 Tips to Stay Safe as a Pedestrian and Prevent Pedestrian Accidents in Rhode Island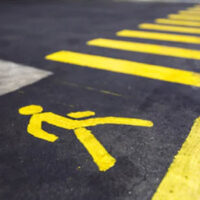 Walking is a healthy and environmentally-friendly way to get around Providence, Newport, Warwick, and other cities in Rhode Island. Unfortunately, getting around a city on foot can be quite dangerous, especially in Rhode Island.
Fatal Pedestrian Accident in Rhode Island
According to Rhode Island's Highway Safety Plan, pedestrian deaths account for over 21% of all traffic fatalities in Rhode Island, which is significantly higher than the national rate (14%). The deadly danger of car accidents involving pedestrians was evident in a recent crash in North Smithfield.
As reported by WPRI, a male pedestrian died from his injuries after being struck by a motor vehicle at around 9:30 p.m. The fatal accident occurred when the man was attempting to cross Route 146 at the Sayles Hill Road intersection. The motorist remained at the scene. A preliminary investigation showed that neither speed nor intoxication was a factor in the accident.
Causes of Rhode Island Pedestrian Accidents
In Rhode Island, car drivers are required to exercise due care when operating motor vehicles. Causes of pedestrian accidents are often stemming from the driver's negligence, including:
Distracted driving due to texting and driving, talking on the phone, and adjusting the radio, among other distracting activities;
Exceeding the speed limit;
Driving recklessly;
Failing to use turn signals;
Failing to yield the right of way to pedestrians;
Drunk driving under the influence of alcohol or drugs; and
Failing to adjust to road and weather conditions.
How to Stay Safe as a Pedestrian in Rhode Island?
Pedestrians are more likely to suffer catastrophic and life-threatening injuries when being struck by a vehicle than occupants of passenger cars. Rhode Island General Laws Title 31, Chapter 31-18 has many laws that govern the right-of-way of motorists and pedestrians.
A pedestrian in Rhode Island or any other state must always remain vigilant and check their surroundings before crossing a road or intersection. Under the Rhode Island law, pedestrians should:
Cross intersections in designated crosswalks, when available, and obey the traffic signals if there are any;
Have the right-of-way when crossing in a crosswalk at intersections without traffic signals. However, a pedestrian must still look both ways before crossing and ensure that approaching vehicles stop to let them cross safely;
Yield the right-of-way to all approaching vehicles when crossing a road anywhere other than a marked or unmarked crosswalk;
Always walk on the left side of the road facing traffic when the road does not have sidewalks;
Not walk on the road when a sidewalk is available. When using a sidewalk, pedestrians must remain aware of their surroundings and pay attention to cars that make turns or back into or out of a driveway; and
Make themselves visible to motorists by wearing bright and fluorescent clothing. Also, Rhode Island law requires runners and joggers to wear reflective clothing when running or jogging after sunset.
When a driver's negligence causes a pedestrian accident, the injured pedestrian can recover damages through a personal injury claim. Consult with a knowledgeable Rhode Island car accident attorney at Robert E. Craven & Associates to discuss your particular situation. Call at 401-453-2700.
Resources:
nhtsa.gov/sites/nhtsa.dot.gov/files/ri_fy14hsp.pdf
wpri.com/news/local-news/blackstone-valley/attleboro-man-dies-after-being-hit-by-car-on-route-146/
https://www.robertecravenlaw.com/can-you-seek-compensation-if-you-were-partially-at-fault-in-a-rhode-island-car-accident/