How To Recover Damages After An Uber Accident In Rhode Island?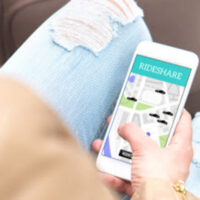 The popularity of rideshare apps, including Uber, has skyrocketed in recent years. An increasing number of Rhode Island residents use rideshare apps as a more affordable and convenient alternative to traditional taxis.
While Uber and other rideshare services have countless benefits, you need to be aware of the risk of being involved in an Uber accident when riding as a passenger.
If you have been involved in an Uber accident in Rhode Island, you need to understand how to recover damages when you sustain injuries as a passenger. Consult with our Rhode Island car accident attorneys to discuss your particular case.
What to Do After an Uber Accident in Rhode Island?
Being involved in a car crash is a scary and confusing experience, regardless of whether you are a passenger or driver of the motor vehicle involved in the accident.
If you get into an Uber accident, there are certain steps you should take to protect your rights and ensure that you can receive compensation for your injuries and losses.
Call 911 as soon as possible after your Uber accident to report the crash to authorities and request medical attention. Follow these steps after an Uber accident:
Call 911 to report the crash;
Take photos of your injuries and vehicle damage;
Take screenshots of your ride in the Uber app;
Wait for the police officers to get a copy of the police report;
Contact Uber to report your accident;
Seek medical attention to receive medical care and diagnose your injury;
Keep copies of your medical records; and
Contact a Rhode Island car accident attorney.
Taking the above-mentioned steps can help you preserve your rights to get compensated for all your losses and damages.
How to Seek Compensation Through the Uber Insurance
As you may know, Uber has an insurance policy to pay for injured passengers and drivers' damages and losses. In addition, Uber drivers who work as independent contractors must carry their auto insurance to be able to pay for injuries when at fault for accidents.
In addition to auto insurance carried by rideshare drivers, Uber provides insurance coverage with the following minimum requirements:
$25,000 per bodily injury
$50,000 per accident
$25,000 for property damage
Insurance coverage depends on the status of the driver at the time of the accident. If you are injured in an Uber accident in Rhode Island, it is advisable to consult with an attorney to determine how you can recover damages, including:
Medical bills
Property damage
Pain and suffering
Lost wages
Emotional distress
Your attorney will help you determine what compensation you can seek after an Uber accident and what insurance coverage is available in your situation.
Keep in mind that there is a time limit for filing personal injury claims after car accidents. If you have been involved in an Uber accident, you have no time to waste. You need a knowledgeable attorney to help you seek the compensation to which you are entitled.
Contact our lawyers at Robert E. Craven & Associates to discuss your particular case. Call 401-453-2700 for a consultation.