Protective Orders in Rhode Island | North Kingstown RI Attorney
There are two types of protective orders in Rhode Island: (1) No Contact Orders and (2) Restraining Orders.
No contact orders are related to criminal charges.  Typically, an "NCO" is ordered by the judge at the defendant's arraignment (that's when the state's charge is formally brought agains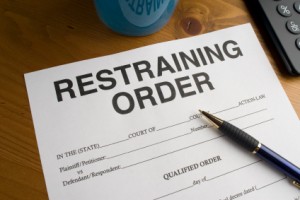 t the defendant).  A no contact order remains in effect throughout the criminal case and its sentence.  If the criminal case is dismissed, the NCO is dropped automatically.  The NCO can be dropped if the victim appears in court requests a judge to drop the NCO.  If you'd like an NCO to remain in effect or if you'd like to have an NCO dropped, you should consider legal representation to properly advise you of your rights.
A restraining order is a court order that you submit an application for in court.  How to apply for a restraining order depends on your relationship with the person you are seeking protection against.  If you want a restraining order against a spouse, former spouse, child in common, adult related by blood/marriage, then you should go to RI Family Court to obtain a restraining order.  If you an adult and seeking a restraining order against an adult who you currently live with or have lived with within the past three years, or against an adult with whom you've had a dating relationship within the past year, then you should go to RI District Court to obtain a restraining order.  Lastly, if you do not fit into the above categories (ie: the defendant is a prior friend, neighbor, or landlord) you must go to RI Superior Court to obtain a restraining order.
There are two types of Family Court restraining orders in RI: (1) a Complaint Protection from Abuse and (2) a civil restraining order.  For a Complaint Protection from Abuse, the RI Family Court has the authority to issue a restraining order for up to 3 years.  Violation of a Complaint Protection from Abuse is a criminal offense. A Complaint Protection from Abuse can require the defendant to leave the household, enter counseling, and/or submit to drug or alcohol testing. Conversely, violating a civil restraining order is not a crime and only a civil offense, punishable by contempt of court.
To actually obtain a restraining order, you must file an affidavit explaining the ways the defendant abused you, threatened you, or stalked/harassed you.
A Temporary Restraining Order is actually issued immediately when you apply for it.  A TRO is valid for 21 days.  After that, you'll need to go to a hearing to get the TRO extended.  At that hearing, a TRO can be extended for up to three years under Rhode Island law.
If you have any questions regarding protective orders in Rhode Island, call our attorneys today for a free consultation.  Our attorneys are both prosecutors and private defense attorneys.  We see protective orders on a daily basis, from both sides of the law.  Allow us to advise you today.