Rhode Island Could Strengthen Penalties for Repeat DUI Offenders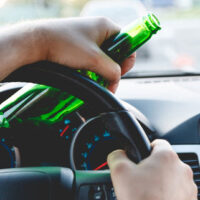 About one in three traffic deaths in the U.S. involve a drunk driver with a blood alcohol concentration of .08% or higher. Two days after a Rhode Island man was charged with drunk driving twice within 18 hours, the state's senator renewed his push to toughen penalties for repeat DUI offenders.
As reported by WPRI, the Warwick man who was arrested and charged with DUI two times within an 18-hour span had a blood-alcohol content twice the legal limit. In Rhode Island, the legal BAC limit is .08%.
Rhode Island Lawmaker Pushing for Tougher Penalties for Repeat DUI Offenders
It is not the first time Sen. Lou Raptakis is introducing the legislative package to strengthen penalties for repeat DUI offenders in Rhode Island. After the recent drunk driving arrest, Raptakis said the state has no time to waste to "pass these important public safety bills."
The senator insists that without these bills, "drunks" are going to keep getting behind the wheel while impaired and causing "mayhem" on Rhode Island roads. The legislative package includes three proposed bills:
The first bill introduced by Raptakis would increase the penalties for individuals convicted of DUI if the car accident resulted in serious injury or death.
The second bill would increase the time period in which a person could be considered a repeat offender. That time period would increase from five to 10 years. In other words, a person convicted multiple times within a 10-year span would face heightened penalties as a repeat offender.
The third bill would require a driver's license plates to be confiscated if that driver is arrested for driving with a suspended, canceled, or revoked license for a number of offenses, including drunk driving and refusing to take a breath test.
All three proposed bills have been sent to the Senate Judiciary Committee for consideration.
Suing a Drunk Driver for Monetary Damages in Rhode Island
Under Rhode Island law, anyone operating a motor vehicle with a BAC of .08% or higher is considered impaired by alcohol. In Rhode Island, a drunk driver who causes serious injury or death to another person has committed a felony.
In addition to facing criminal penalties for causing wrongful death or serious injury to a victim, a drunk driver can be subject to a civil lawsuit by the injured party or the surviving family members.
A knowledgeable and experienced Rhode Island drunk driving attorney can help you prepare a civil lawsuit against the impaired motorist and collect evidence proving his or her fault. Rhode Island traffic law requires car drivers to exercise a duty of care in order to avoid harming others.
Operating a motor vehicle with a BAC that exceeds the legal limit is considered a breach of the driver's duty of care. Once a lawyer has established the impaired motorist's fault, the injured party can seek compensation for any resulting injuries, including medical expenses, lost wages, diminished earning capacity, pain and suffering, and many more.
Contact our Rhode Island drunk driving accident attorneys at Robert E. Craven & Associates to establish fault in your drunk driving case and evaluate the compensable damages. Call at 401-453-2700 for a case evaluation.
Resources:
nhtsa.gov/risky-driving/drunk-driving
wpri.com/news/politics/citing-recent-case-ri-senator-looks-to-toughen-penalties-for-repeat-dui-offenders/