Can Your Phone Detect How Drunk You Are to Prevent Car Accidents?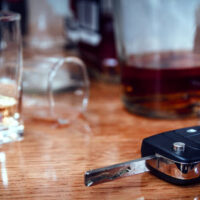 A recent study could pioneer the creation of breakthrough technology to prevent drunk driving accidents with the use of cellphones. But can phones actually detect how drunk you are?
In Rhode Island, as in most other states, the blood alcohol concentration (BAC) limit for operating a motor vehicle is .08%. As a rule of thumb, a driver's BAC level can be measured 15 minutes after consuming their first alcoholic beverage. As suggested by BAC Track, a driver's BAC level can remain "within safe limits" if they drink "one standard drink per hour."
Factors That Impact Your BAC Level
However, there is a multitude of factors that impact an individual's BAC level, including:
Age
Gender
Body weight
How quickly you drink
How much food was eaten prior to consuming alcohol
The use of certain medications
A recent study has suggested that smartphones could tell how drunk a person is and could even determine if their BAC level exceeds the legal limit of .08%. Since over 96% of Americans now own a cellphone of some kind, phones that measure a driver's BAC level could be an alternative to portable breath analyzers.
Study Suggests That a Phone Can Detect How Drunk You Are
The new study, which was published in the Journal of Studies on Alcohol and Drugs, involved 22 participants who visited a laboratory to consume an alcoholic beverage that would increase their BAC to .02%.
Before consuming a vodka-based drink, a smartphone was strapped to each participant's back. Then, a participant had to walk 10 steps in a straight line and then walk back. In the next seven hours, each participant repeated the walk every hour.
The sensors on the cellphone measured a participant's acceleration and movements. The sensors measured their movements up and down and from side to side. The study showed that the phones were able to determine that a participant's BAC level was higher than the legal limit in 92.5% of all cases.
While the new study suggests that phones can detect how drunk their owners are, there were some notable limitations. Firstly, the participants had their cellphones strapped to their back, which is why it is unknown how accurate the results would be if the participants were carrying a phone or had it in their pocket.
Secondly, the researchers measured the participants' breath alcohol concentration, which can be somewhat lower than alcohol concentrations in a person's blood. Interestingly, it is not the first time researchers are trying to use technology to determine whether a person is drunk.
In 2016, a study used machine learning to measure participants' level of intoxication. The study gathered data from 34 intoxicated participants and evaluated their cadence, sway area, and other factors.
Have You Been Injured in a Drunk Driving Accident in Rhode Island?
Driving under the influence of alcohol is irresponsible behavior, yet thousands of people are killed in car accidents caused by impaired motorists every year. If you were injured in a drunk driving accident, you could hold the intoxicated motorist civilly liable for your damages and losses.
Speak with our Rhode Island drunk driving accident attorneys to review your particular case. Contact Robert E. Craven & Associates to get a case review. Call at 401-453-2700.
Resources:
pewresearch.org/internet/fact-sheet/mobile/
jsad.com/doi/10.15288/jsad.2020.81.505
https://www.robertecravenlaw.com/rhode-island-could-strengthen-penalties-for-repeat-dui-offenders/