Recovering Damages as a Passenger Injured in a Car Accident in Rhode Island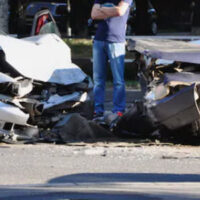 If you were injured as a passenger in an auto accident in Cranston, Providence, Warwick, or elsewhere in Rhode Island, you may be able to collect 100% of your damages. Since Rhode Island follows the doctrine of pure comparative negligence, injured passengers are entitled to 100% of the damages regardless of whether they were in the vehicle operated by the motorist who was fully or partially at fault or not at fault at all.
In rare cases, an injured passenger's recovery may be reduced if their own negligence or recklessness contributed to the car accident. For example, if a passenger forcibly reached for the steering wheel, the passenger may be deemed at fault for causing the crash.
Can an Injured Passenger Recover Damages After a Car Accident?
In Rhode Island, injured passengers can recover damages from either the driver of the vehicle they were riding in, the other motorist involved in the crash, or both. Under the state's pure comparative negligence law, an injured party can seek compensation even if they were 99% at fault for the accident. However, the total award would be reduced by the percentage of their fault.
For example, if a passenger is deemed to be 20% at fault for causing a car crash because they reached for the steering wheel, their compensation will be reduced by 20%. Thus, if the total recovery is $100,000, the injured passenger would be entitled to only $80,000 in damages.
Under Rhode Island's statute of limitations, injured passengers and drivers have three years to file a personal injury claim against the at-fault party.
What to Do if You Were Injured as a Passenger in a Rhode Island Car Accident?
If you were injured while riding in the front or back seat of a vehicle as a passenger in a car crash, you need to take the following steps to protect your right to recover damages:
Report the Accident
It is vital to report a car accident in which you were injured as a passenger, regardless of whether your injury is minor or severe. By reporting the crash, you can obtain a record of the accident in order to prove the cause of your injury.
Collect Information from the Drivers
If there are two or more drivers involved, you need to collect information from all parties involved in the crash, including their name, address, contact information, and insurance information.
Seek Medical Attention Right Away
Even if it seems that you were not injured, it is important to seek medical attention after the crash. Some symptoms may take days or even weeks to manifest themselves, but your failure to request medical attention immediately following the accident may negatively impact your personal injury claim.
Collect Evidence
Even if you are an injured passenger, you should still document everything and collect evidence to prove the extent of your damages and losses. Thus, document your medical bills, loss of wages, pain and suffering, doctor visits, and others.
Contact a Car Accident Attorney
Last but not least, schedule a consultation with a skilled Rhode Island car accident lawyer. Your lawyer can help you recover damages from a driver or multiple drivers who were at fault for causing the crash. Contact our attorneys at Robert E. Craven & Associates to schedule a consultation. Call at 401-453-2700.
https://www.robertecravenlaw.com/how-to-report-a-car-accident-to-your-insurance-company-in-rhode-island/