Slip and Fall Accidents | RI Personal Injury Lawyers
Slip and fall accidents are a significant cause of personal injuries in Rhode Island.  Injuries from slip and fall incidents range from very minor bumps and bruises to catastrophic losses.  What might be just an embarrassing incident at first, could become a serious personal injury within hours or days.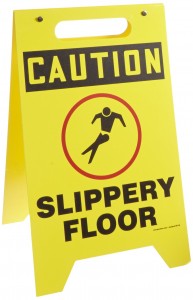 In Rhode Island, slip and fall accidents most often occur in restaurants, grocery stores, malls, and retail stores.  These large establishments are often too much for management to completely control, leading to unsafe conditions, and personal injuries.  You may be surprised to learn that even if you're at fault for an accident, you can still recover a significant dollar amount under Rhode Island law.  RIGL § 9-20-4.
But what should you do immediately after a slip and fall accident in Rhode Island?
Seek medical treatment. If you are in pain, this is an obvious action.  However, you may not realize the extent of your injuries at first.  Frequently, we see clients who appear fine immediately following a slip and fall accident but begin to notice significant injuries within hours or days.  Also, many clients try to put up with the pain.  Delaying your medical treatment may lead to serious health consequences and we can guarantee that it will harm your legal case.  Insurance companies will notice that you did not seek treatment immediately following the accident and will suggest that the slip and fall didn't cause your harm.  By seeking treatment immediately and by attending all scheduled appointments, you can ensure that insurance companies will be inclined to make a favorable settlement offer.

File a report. If you fell at a business, make contact with a manager and ask that a report of the incident be generated.  Request that this report include witness statements and all details about the incident.  Additionally, if emergency personnel treated you on scene, ask for their reports of the incident.  By generating reports, you are creating objective evidence that will support your case.  While your recollection of the events is often enough to settle a case or even win a case a trial, objective evidence – such as reports and witness statements – will only help concrete your slip and fall case.

Call the attorneys at Robert E. Craven & Associates. Our attorneys handle slip and fall cases in Rhode Island on a regular basis.  We refuse to accept the first offer from insurance companies and we do not hesitate to bring a case to trial (if the client desires).  Allow us to apply our expertise of RI personal injury law to your case for optimal results.
For more information about personal injury cases in RI, see our FAQs of a personal injury lawyer.