What Should I Do After A Distracted Driving Accident In Rhode Island?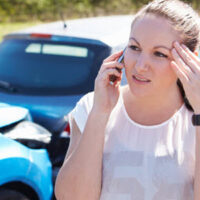 Thousands of car accidents in Rhode Island are caused by distracted driving. Texting while driving is not the only distracting activity that can impair a driver's ability to focus on the road.
Other activities that can divert a driver's attention from safe driving include eating, grooming, changing radio stations, and even talking to passengers, among others.
Many people do not know what to do following a car crash, especially if the collision involved a distracted driver. If you have been in an auto accident caused by distractions, contact a Rhode Island distracted driving accident attorney.
5 Steps to Take After a Distracted Driving Accident
If you were involved in a car crash caused by a distracted motorist, take the following steps to preserve your rights and prove the other driver's fault:
Make sure that everyone is OK
Checking for injuries is the first step you should take after a distracted driving accident or any other car crash. You need to make sure that everyone is fine before taking other steps at the scene of the accident.
Note: Even if you are not visibly hurt and do not have any pain after the crash, it is still a good idea to seek medical attention to check for injuries.
Call 911
The next step is to call 911 and report the accident. If anyone has been injured in your distracted driving accident, request an ambulance. Calling 911 is important to have a police officer write a police report, which may document the fact that the other driver was distracted.
Under Rhode Island Gen. Laws § 31-26-6, every motorist is legally required to report a car crash involving bodily injury, death, or property damage that exceeds $1,000.
Gather evidence at the scene
Evidence will play a critical role in your distracted driving claim. Take photographs and videos at the scene of the car crash, focusing on skid marks (or the lack thereof), vehicle damage, road conditions, and other relevant details.
Talk to witnesses and get their contact information
If anyone witnessed your car crash or the fact that the other motorist was distracted at the time of the accident, it is crucial to get the witnesses' names and contact information.
Witness statements can help you prove that the accident was caused by distracted driving.
Speak with an attorney
If you suspect or know for a fact that the other driver involved in your car accident was distracted at the time of the collision, it is important to contact a skilled attorney to help you prove that you were hurt due to distracted driving to get the compensation you deserve.
A knowledgeable attorney will know the different ways to prove the other driver's fault to ensure that you are fairly compensated for your injuries and losses.
Schedule a consultation with our Rhode Island distracted driving accident attorneys at Robert E. Craven & Associates to discuss your case. Call 401-453-2700.