What Is Distracted Driving Caused By Use Of Electronic Devices In Rhode Island?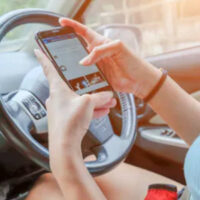 Distracted driving is considered one of the most common causes of preventable car accidents in Rhode Island. Getting distracted even for a second can cause a collision with another car or pedestrian.
Over the past years, Rhode Island legislators passed a number of laws to address distracted driving caused by the use of electronic devices. If you or someone you love has been involved in an auto accident with a distracted driver, contact our attorneys at Robert E. Craven & Associates.
What is Considered Distracted Driving in Rhode Island?
Rhode Island banned handheld cellphone use not long ago. The state prohibited drivers from using handheld phones while behind the wheel in June 2018. Rhode Island's distracted driving law prohibits the following:
Reading, typing, or sending emails or texts while using a handheld electronic device (R.I. Gen. Stat. § 31-22-30);
Using a handheld phone to talk;
Holding a cellphone in one or both hands; and
For motorists under the age of 18 and school bus operators – using a cellphone or any other personal electronic device while driving (even a hands-free device).
If a Rhode Island police officer observes you violating the state's distracted driving law, they have a right to stop your vehicle and fine you up to $100. If you are a first-time offender who can demonstrate proof of purchasing a hands-free device, the offense may be waived.
Note: The above-mentioned laws apply to motorists when the vehicle is in motion or idle (e.g., stopped at a red light or intersection).
Distracted Driving Caused by Electronic Devices
Using personal and mobile electronic devices is not just illegal but also dangerous in Rhode Island. However, drivers in Rhode Island continue to use electronic devices while operating a motor vehicle, including:
Cellphones
Illegal activities using a handheld cellphone while driving include:
Texting (sending, composing, and reading text messages or emails)
Taking selfies
Playing mobile games
Using messengers and chat apps
Reading the news or eBooks
Browsing social media
Note: Rhode Island drivers are allowed to initiate and take phone calls using hands-free accessories such as Bluetooth.
Smartwatches
Contrary to popular belief, smartwatches are not safe to use while operating a motor vehicle. In fact, anything that makes a motorist take their eyes off the road or remove their hands from the wheel is considered distracted driving. For this reason, using a smartwatch while driving is still dangerous even though a driver is not actually "holding" the device in their hands.
GPS system
Many people do not realize it, but GPS systems can also contribute to distracted driving accidents. While GPS systems are helpful when driving on unfamiliar roads or looking for the fastest route, they can force a driver to take their eyes off the road.
Tablets
Rhode Island law prohibits drivers from having any screens, television, or other types of visual media located in their field of view. For this reason, you cannot use your iPad or another tablet to watch videos or news while driving. A safer option would be to listen to the radio, which does not cause you to become visually distracted.
If you have been involved in an accident while distracted by electronic devices, do not hesitate to speak with a Rhode Island distracted driving accident attorney. Contact Robert E. Craven & Associates to schedule a consultation by calling 401-453-2700.