Is Using a Smartwatch a Distracted Driving Activity in Rhode Island?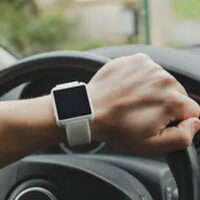 Advancements in technology have aggravated the problem of distracted driving. Smartwatches have become a widely used wearable among teenagers and adults alike. While it may seem that smartwatches are a safer alternative to cell phones for those who operate a vehicle, studies would beg to differ.
As smartwatches may cause a motorist to become distracted while driving, many are wondering whether using a smartwatch while behind the wheel is illegal in Rhode Island.
Rhode Island's Distracted Driving Law and Smartwatches
In Rhode Island, the distracted driving law prohibits drivers from using any handheld devices, including cell phones. The state law bans the use of cell phones and other handheld wireless devices while driving a motor vehicle. Also, drivers are not allowed to use headphones and other accessories that cover the driver's ears.
Meanwhile, Rhode Island law does not ban the use of in-car and hands-free devices, systems, and accessories. Smartwatches fall into the "legal" category of devices under the state law as they are worn on the driver's wrist as opposed to being held in the hands.
Nonetheless, any behavior that forces a driver to take their eyes off the road, hands from the wheel, or divert their mind away from driving is considered "distracted driving." And smartwatches can contribute to accidents because they can divert the driver's attention from the road.
Smartwatches May Be More Distracting Than Cell Phones
Many people think that smartwatches are less likely to divert a car driver's attention from the road compared to smartphones. However, a 2015 study found that smartwatches are actually more distracting than cell phones if used while driving. The researchers found that a driver using their smartwatch needs 2.52 seconds to react to a road hazard, compared to 1.85 seconds for drivers who are using a handheld phone.
Distracted driving is responsible for at least 8% of all car accident deaths in the United States. In 2018 alone, distracted driving killed over 2,840 people across the country. According to a 2016 survey by the Rhode Island Department of Motor Vehicles, only 33% of drivers admitted to never talking on a handheld cell phone while driving.
Why You Need a Rhode Island Distracted Driving Attorney
Unfortunately, by their nature, smartwatches are very interactive and addictive, which increases the risk of a car driver becoming distracted while operating a vehicle. However, since smartwatches are worn on the wrist, it may be difficult for investigators to determine that the motorist was distracted by their smartwatch at the time of a car crash.
It is best to hire a knowledgeable distracted driving attorney who has the necessary investigative experience and training to prove that another driver used a smartwatch and that their distraction contributed to a collision.
Although most law enforcement agencies do not include smartwatches in their car accident statistics related to distracted driving, that does not mean that these wearables do not contribute to vehicle crashes.
In Rhode Island, injured individuals who were hurt due to someone else's negligence must establish these four elements of a personal injury claim to obtain compensation:
Duty of care. The distracted driver owed you a duty of care.
Breach of duty. The distracted motorist breached the duty of care by getting distracted by their cell phone, smartwatch, or any other device or any other distracting activity.
Causation. You must prove the link between the driver's distraction and the car crash.
Damages. You suffered damages as a result of the driver's distraction behind the wheel.
Talk to our skilled Rhode Island distracted driving attorney at Robert E. Craven & Associates to review your particular case. Let our lawyers help you obtain compensation on your behalf. Call at 401-453-2700 to get a consultation.
Resources:
huffingtonpost.co.uk/binky-felstead/apple-watch-driving_b_6849408.html
nhtsa.gov/risky-driving/distracted-driving
nhtsa.gov/sites/nhtsa.dot.gov/files/documents/rhode_island_fy2018_hsp.pdf
https://www.robertecravenlaw.com/texting-while-walking-is-linked-to-an-increased-risk-of-pedestrian-accidents-a-study-shows/