How to Establish Fault in a Stop Sign Accident in Rhode Island?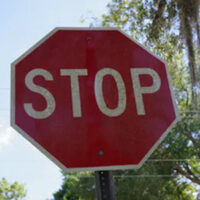 Determining liability in an auto accident in which one or more drivers failed to stop at a stop sign can be complicated. Regardless of whether an intersection has one or more stop signs, there is always at least one at-fault party.
If you were hurt in a stop sign crash in Providence, Newport, or other parts of Rhode Island, consult with a knowledgeable car accident attorney to investigate your crash, establish fault, and assist you with obtaining compensation.
Stop Sign Accident in Rhode Island and Traffic Law
A recent motorcycle crash in Providence, Rhode Island, is a classic example of a stop sign accident. As reported by Providence Journal, the motorcyclist suffered critical injuries after a crash at the intersection of Somerset Street and Friendship Street. The 23-year-old biker collided with a car and was ejected from the motorcycle.
The motorcyclist, who had no helmet when the collision happened, landed nearly 70 feet away from his motorcycle. Witnesses said the biker failed to stop at a stop sign when the crash occurred. The motor vehicle had also not stopped at a stop sign. The Providence police are still investigating who had the right of way.
Under Rhode Island law, every motorist approaching an intersection with one or more stop signs must stop before entering the crosswalk. If there is no crosswalk, the law requires motorists to stop at the marked stop line. However, if there is no marked line, the driver must stop at a point where the motorist can observe approaching traffic on the intersecting highway prior to entering the intersection.
Who's at Fault in Stop Sign Auto Accidents?
The following factors must be taken into account in order to establish fault in a stop sign accident:
Were you or the other party distracted? Inattentive and distracted driving is one of the most common causes of stop sign accidents.
Who had the right of way? Establishing fault in any collision at an intersection often comes down to determining who had the right of way.
Did your own negligence contribute to the crash? Often, failure to stop at a stop sign accidents involves multiple at-fault parties (e.g., you were distracted while the other driver sped through a stop sign).
Did the crash occur on a through street? If one driver is on a through street and has no stop sign, he or she has the right of way. The other motorist, meanwhile, must stop and wait until it is safe to drive forward when a through street is clear.
Did both drivers stop? When two motorists arrive at a four-way stop at the same time, and then both move forward simultaneously and end up in a collision, determining liability can become complicated. Under state law, when two vehicles stop at an intersection simultaneously, the vehicle on the right always has the right of way first.
If you were injured in a stop sign car crash, consult with our Rhode Island car accident attorneys at Robert E. Craven & Associates. Get a consultation by calling at 401-453-2700.
Resource:
providencejournal.com/news/20200526/motorcyclist-critically-injured-in-providence-crash
https://www.robertecravenlaw.com/is-using-a-smartwatch-a-distracted-driving-activity-in-rhode-island/