Strict Liability for Dog Bite Injuries Inside vs. Outside of an Enclosure in Rhode Island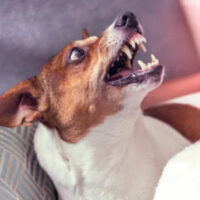 Dog owners have a responsibility to prevent their pets from causing harm to other people and animals. Unfortunately, dog bite injuries can happen even when owners are trying to control their animals.
Being attacked by a dog is a scary experience. A dog bite can cause severe infection, permanent scarring or disfigurement, or even death. But are victims entitled to compensation when the dog attack occurs inside or outside of a dog's enclosure?
Typically, the theory of strict liability in Rhode Island is applicable when a dog bite occurs outside of the dog's enclosure.
Dog Attack in Rhode Island
A recent dog attack in East Providence, Rhode Island, highlighted the danger of having your small children around dogs, especially such dangerous dog breeds as pit bulls. As reported by Boston.com, a 15-year-old child was killed and two adults sustained injuries in a terrifying attack by a family dog.
The dog attack occurred in an East Providence home. Police officers responded to a report of a disturbance and found a toddler with critical injuries. After performing basic life-saving procedures, the girl was taken to a Providence hospital, where she was later pronounced dead. The two adults were injured while trying to protect the little girl from the family dog, a pit bull-type breed. Police were not aware of any prior attacks involving this dog, which was euthanized following the incident.
Rhode Island's Strict Liability in Dog Bite Cases
Under the Rhode Island Gen. Section 4-13-16, a dog owner can be held liable for causing injuries to any person who was "assaulted, bitten, or otherwise injured" by the dog while:
traveling the highway; or
out of the dog's enclosure.
The owner or keeper of a dog is held liable for any injuries and damages sustained by a victim when the attack occurs outside of an enclosure. If the same dog bites someone again, the owner or keep will be ordered to pay double the damages.
This is known as the "strict liability" theory in Rhode Island. But what happens if your dog bite injury occurred inside an enclosure, such as a fenced yard? Does it mean that you will not be eligible for compensation from the dog owner in Rhode Island? Does the theory of strict liability apply when a dog bites a person inside its enclosure?
What Happens if a Dog Bites Someone Inside an Enclosure in Rhode Island?
Typically, the strict liability provisions of Rhode Island's dog bite law are not applicable when a dog attack occurs inside an enclosure. However, if you were bitten by a dog and can demonstrate proof that the owner of that dog was aware of the animal's violent propensities, you may be entitled to compensation for your dog bite injury in Rhode Island.
For this reason, it is imperative to be represented by a skilled Rhode Island personal injury attorney. Contact our lawyers at Robert E. Craven & Associates to receive a consultation. Call at 401-453-2700.
Resource:
boston.com/news/local-news/2020/07/17/15-month-old-killed-by-family-dog-in-rhode-island
https://www.robertecravenlaw.com/children-more-likely-to-be-bitten-by-a-familiar-dog-at-home-study-finds/