Who's Responsible for Weather-Related Car Accidents in Rhode Island?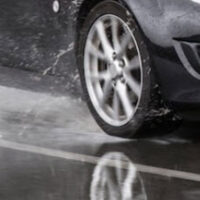 Car accidents occur in Rhode Island every single day. However, when bad weather strikes, the chances of getting into a car crash significantly increase. But who is going to pay for your medical bills and other expenses associated with a weather-related crash?
After all, you cannot file a lawsuit against rain or thunderstorm, nor can you sue mother nature for your weather-related car accident. So, who is at fault when your motor vehicle collision occurs due to adverse weather conditions such as rain, thunderstorm, snow, ice, or others?
Adverse Weather Conditions in Rhode Island
More than 5,000 people across Rhode Island were without power when a series of thunderstorms rolled through the state on July 14. Streets were flooded, and motorists were seen driving through wheel-high water in some areas of Rhode Island after a fast-moving system of thunderstorms pounded the state with heavy rain and gusty winds, according to Patch.
It was not immediately known how many car accidents occurred when the streets were flooded that day. If you were one of those who was involved in a weather-related collision in Rhode Island, do not hesitate to speak with skilled car accident attorneys to determine liability in your particular situation.
Who's Responsible in Car Accidents Caused by Weather?
When weather is bad, motorists can still be held responsible for any accidents that they cause as a result of negligence. You cannot simply blame the weather for your car crash and get away with it.
In fact, motorists driving in bad weather need to take special care to avoid car crashes. When operating a motor vehicle in poor weather conditions, drivers are required to stay in control by:
Avoiding hard braking and acceleration;
Adjusting the speed;
Increasing stopping distance; and
Performing maneuvers with extra care.
While you cannot control or change the weather, you can control how you operate your vehicle in bad weather. Motorists can be held responsible for weather-related crashes because they decided to drive in adverse weather conditions and got into an accident as a result of their failure to exercise due care.
A Driver's Duty of Care in Weather-Related Accidents in Rhode Island
In Rhode Island, every motorist owes others a duty to drive cautiously and avoid causing collisions. The duty of care when operating a motor vehicle in inclement weather is even higher because drivers are required to take all necessary precautions to avoid causing a car crash.
Besides a motorist's failure to exercise due care when driving in bad weather, a car driver can be held responsible for a weather-related collision when they:
Fail to use windshield wipers
Drive under the influence of alcohol or drugs
Fail to use headlights
Drive while fatigued or drowsy
Drive with worn, damaged, under- or over-inflated tires
Exceed the posted speed limit
Brake or accelerate too hard
Turn too sharply
Fail to obey traffic signs and signals
Get distracted behind the wheel
While adverse weather can be a major factor when it comes to establishing fault in your car accident in Rhode Island, it is important to keep in mind that motorists can still be held liable for the resulting damages and losses if they failed to exercise due care.
Consult with a skilled Rhode Island car accident attorney if bad weather caused or contributed to your crash. Contact our lawyers at Robert E. Craven & Associates to schedule a consultation. Call at 401-453-2700 to speak with our knowledgeable attorneys.
Resource:
patch.com/rhode-island/newport/5k-without-power-streets-flooded-ri-after-fast-moving-storm
https://www.robertecravenlaw.com/how-to-establish-fault-in-a-stop-sign-accident-in-rhode-island/