Children More Likely to Be Bitten by a Familiar Dog at Home, Study Finds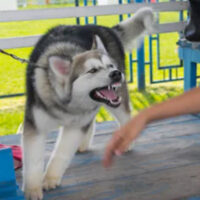 A new study showed that children are twice as likely as adults to be bitten in the eye area. The study, published in the Journal of Oral and Maxillofacial Surgery, warned against children being at the eye level with a dog, even if it is a familiar dog at home or under adult supervision.
Children at Increased Risk of Dog Bites
The study found that children are more likely to experience a dog bite on the head, face, or neck by a familiar dog at home. The central target area (CTA) – comprised of the nose, lips, and cheeks – is the most frequently injured area in dog bites involving both adults and children.
Researchers also concluded that children were at less risk from injuries to the CTA, mainly because of their head/face structure and because attacking dogs usually aim at the child's eyes. The study encompassed dog bites involving 313 participants, 183 of whom were children. The participants were bitten in the head, face, or neck at least once in their lifetime and had to receive emergency care.
The study also found that:
children who were bitten by a dog were more likely to undergo treatment in the operating room; and
children between ages 1 and 4 were at the highest risk of sustaining an injury to the eye area, also known as the periorbital region.
Why Do Dogs Bite Children?
Researchers say that children were more likely to be bitten in the eye area due to their shorter height and larger head-to-body ratio. Aside from their body structure, the behavior of children also makes them more likely to be bitten.
Previous studies also showed that children were more prone to dog bites because they may not notice subtle warning signs that a dog is likely to bite.
Unfortunately, most children may be unaware that their behavior can cause a dog to feel threatened, especially if they move their face closer to the dog (as if trying to bite them), the study noted.
Dogs have an instinct to attack adults and children in the head region and the face if they perceive them as a threat or are trying to play. The study also found that most participants were able to identify pill bulls (26% adults and 18% children), while other dog breeds were listed as unknown.
Was Your Child Bitten by a Dog in Rhode Island?
Rhode Island follows the so-called "one bite" rule. The rule means that dog owners can be held responsible for personal injuries only if they knew that their dog would attack or act aggressively. In other words, if a dog has bitten someone in the past, its dog owner can be held liable for the subsequent bite.
If a dog attacked your child, contact a Rhode Island dog bite attorney at Robert E. Craven & Associates to receive legal assistance. Call our offices at 401-453-2700 to get a consultation.
Resources:
sciencedaily.com/releases/2019/05/190522141825.htm
joms.org/article/S0278-2391(19)31046-8/fulltext
https://www.robertecravenlaw.com/rhode-island-legislators-to-reform-the-states-vicious-dog-laws/