10 Surprising Driving Distractions (Besides Texting)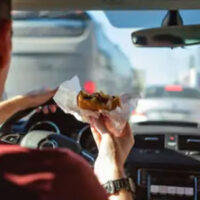 Car accidents involving a distracted driver kill approximately 3,000 people every year, according to the National Highway Traffic Safety Administration (NHTSA).
While everyone knows about the dangers of texting and driving, using a smartphone behind the wheel is not the only driving distraction that can take your attention away from the road and result in a distracted driving accident.
Today, we will review 10 most surprising causes of distracted driving.
Listening to music
Yes, listening to music while driving can be distracting, but not just any music. Researchers found that listening to your favorite songs while operating a vehicle and driving with the music turned up too loud can negatively affect your driving.
Looking at your smartwatch
Using a smartwatch while driving could be even more dangerous than using a handheld phone behind the wheel, according to a 2015 study. Research showed that it took an average of 2.52 seconds longer for a driver to react to a road hazard while using a smartwatch compared to 1.85 seconds when using a handheld cellphone.
Driving while sad, angry, or agitated
Motorists who were observed sad, angry, or agitated when driving were nearly 10 times more likely to get into a car accident, a 2016 study showed.
Handling pets
The vast majority of drivers who own pets have driven with their furry friend at least once in their life. More than half of dog owners have admitted to petting their pet while operating a motor vehicle, while 17% said they allowed their dog to sit in their lap while driving.
Holding a full bladder
Many have experienced that strong urge to urinate while driving. According to a 2011 study, holding a full bladder can impair the driver's judgment and concentration the same way as driving under the influence of alcohol at .05% of the blood-alcohol content (BAC).
Live-streaming or recording videos while driving
A 2017 study found that live-streaming or making videos while operating a vehicle involves all three forms of distraction: Visual, manual, and cognitive. In other words, when live-streaming or recording videos behind the wheel, the driver's eyes, hands, and mind are no longer on the road and wheel.
Driving with children
According to researchers, driving with a kid passenger is four times more distracting than driving with an adult passenger. Having infants in the vehicle is eight times more distracting.
Using hands-free technology
Yes, even using hands-free devices can be distracting when operating a motor vehicle, even though it's legal in many states. A 2015 study showed that talking or sending text messages with the help of hands-free technology can be just as distracting as using a handheld cellphone. Researchers found that a driver remains distracted for up to 27 seconds after issuing a voice command.
Eating while driving
The vast majority of motorists (70%) admit to eating or drinking beverages behind the wheel. Since eating while driving requires the driver to hold food in the hands, they will have to take one or both of their hands off the wheel, which becomes a manual distraction.
Reaching for items in the backseat
Reaching for things in the passenger seat while driving increases the risk of a car accident by nearly 10 times, according to a 2016 study.
Consult with our Rhode Island distracted driving accident attorneys at Robert E. Craven & Associates to help you prove that the other driver involved in your crash was distracted. Call 401-453-2700 to schedule a consultation and discuss your particular case.
Resources:
telegraph.co.uk/news/science/science-news/12168472/Which-emotion-raises-the-risk-of-a-car-crash-by-nearly-10-times.html
nhtsa.gov/risky-driving/distracted-driving
news.yale.edu/2011/09/30/when-you-really-really-have-go-study-wins-ig-nobel-prize
drive-safely.net/eating-while-driving/
abcnews.go.com/US/worst-driving-distractions-road-kids/story?id=18684711
exchange.aaa.com/safety/driving-advice/pet-passenger-safety/#.X9K8R9gzbQB