Who's Liable When Road Hazards Lead to a Car Accident in Rhode Island?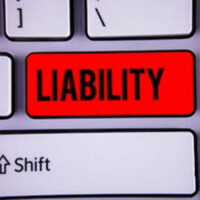 Unexpected road hazards and defects such as potholes, cracks, and debris can not only damage a vehicle's tires and undercarriage but also cause the driver to lose control of the car. But who can be held liable when roadway hazards or defects cause a car accident in Rhode Island?
Motorists may encounter road hazards on highways, roadways, interstates, and rural roads. While some drivers may have enough time to react to a road hazard and avoid an accident, others end up losing control and crashing their vehicle.
How Do Road Hazards and Defects Occur?
There are four main causes of poor road conditions, roadway defects, and road hazards:
Improperly secured cargo loads. When cargo is not properly secured in a truck or car, it could get loose and fall onto the road. Unsecured cargo loads can turn into obstacles on the road and cause preventable collisions.
Inadequate vehicle maintenance. When a motor vehicle is not properly maintained, it is likely to experience detached vehicle parts, including tires. When vehicle parts get loose and end up on the road, they can cause car crashes.
Improperly maintained construction zones. Construction workers must set up and maintain a safe work zone. When a construction company is negligent in maintaining a construction zone, car crashes can occur because of road debris.
Poor road maintenance. When roads are not properly maintained, drivers are likely to encounter potholes, large cracks, and uneven surfaces that increase the risk of a car crash. Roadways have a relatively short lifespan, which is why government agencies must maintain roads before they deteriorate.
Who's at Fault for Accidents Involving Road Hazards?
The most difficult part of establishing fault for a car crash caused by road hazards is determining the origin of debris that led to the collision. Often, it is necessary to talk to witnesses, access surveillance video footage, and gather other types of evidence to identify the at-fault party.
Depending on how a road hazard occurs, the injured party may be able to file a claim against one or several of the following parties:
Another driver or their employer. When a driver fails to properly secure cargo loads, they can be held liable for the resulting injuries and damages caused by road hazards that fell onto the road from their vehicle. If the motorist was driving in the course and scope of their employment, their employer could be held vicariously liable for the collision.
Construction companies. When a construction company fails to properly maintain a construction zone, causing road hazards that may harm other motorists, the company can be held accountable for the resulting crash.
Government agencies. If a car crash was caused by road hazards caused by improper maintenance of the roadway, the injured party could pursue a claim against the government entity responsible for the inspection, maintenance, and repair of the road where the accident occurred. Rhode Island law imposes strict requirements for claims against cities, towns, and municipalities. Under RI Gen L § 45-15-9, an injured party must file a notice of the injury within 60 days of the accident. Then, the injured individual has three years to bring a claim against the government agency.
Speak with our Rhode Island car accident attorney to establish fault in your collision caused by road hazards. Our lawyers at Robert E. Craven & Associates will identify at-fault parties in your cases and help you obtain fair compensation for your injuries and damages. Call at 401-453-2700 for a consultation.