Recovering Damages After a Rhode Island Bus Accident: Why You Need a Lawyer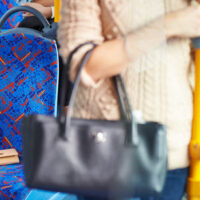 Who should be responsible for your injury if you were harmed in a Rhode Island bus accident? Whenever you think of buses or other means of public transportation in Rhode Island, the first thing that comes to mind is RIPTA.
RIPTA, Rhode Island Public Transit Authority, is a mass transportation system that offers low-cost bus service throughout the state.
Catastrophic Bus Accident in Rhode Island
While public transportation is said to be the safest way to commute to and from work, accidents involving buses do happen from time to time. In fact, when they do occur, these crashes usually involve a large number of people compared to the average vehicle collision involving one or two cars.
This was evident from a recent RIPTA bus accident in Providence. According to the Providence Journal, at least a dozen people were injured in the RIPTA bus crash at the intersection of South Main Street and Power Street.
The catastrophic crash involved a white Jeep Grand Cherokee and a RIPTA bus. The driver of the Jeep was injured while a passenger in the vehicle was not hurt. As many as 11 bus passengers were injured, including the bus driver. The severity of injuries varied, but some passengers sustained broken bones.
Ambulances were on scene from Cranston, East Providence and North Providence, West Warwick, Pawtucket, and Providence.
Causes of Bus Crashes in Rhode Island
Determining what caused a bus crash in Rhode Island is the first step in the process of establishing fault. Some of the most common causes are:
Excessive speed
Distracted driving
Lack of driving experience
Failing to yield the right of way
Faulty or defective mechanical parts
Driver fatigue
Drunk driving
Improperly maintained bus equipment
Defective road design
Poor road conditions
Adverse weather conditions
Why Recovering Damages After a RIPTA Bus Accident is Tough
RIPTA enjoys special protections and immunity in personal injury cases, which makes it more difficult for passengers to obtain any compensation at all.
RIPTA is a self-insured agency, which means that all personal injury claims go directly to them, rather than a third-party insurance company. Meaning: as a self-insured agency, RIPTA does not need to answer to the insurance commissioner or even a claims adjuster, which makes the process of recovering damages unfair and uncooperative.
You need professional legal help from a Rhode Island personal injury attorney to obtain the compensation you deserve on your behalf. Luckily, bus companies in Rhode Island are required to carry extensive insurance policies to compensate victims injured in a bus crash.
Hiring a bus accident attorney that specializes in crashes involving buses and other means of public transportation is a critical step when seeking compensation from all responsible parties. The bus driver and/or their bus company may not be the only parties whose negligence contributed to the accident.
Let our skilled Rhode Island car accident attorneys from Robert E. Craven & Associates determine liability in your bus accident and hold every party at fault accountable. To ensure a successful outcome in your case, our lawyers will preserve evidence, speak to witnesses, hire private investigators, and contact local officials. Contact our law firm by calling at 401-453-2700.
Resource:
providencejournal.com/news/20200120/12-injured-as-ripta-bus-crashes-in-providence
https://www.robertecravenlaw.com/drunk-driving-accidents-during-the-holidays-in-rhode-island/