Drunk Driving Accidents During the Holidays in Rhode Island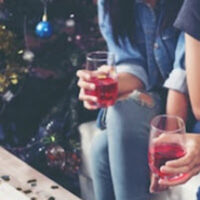 Car accidents related to drunk driving spike during the holiday season in Rhode Island and all other states. An average of 300 Americans die in DUI-related collisions the week between Christmas and New Year's Eve.
With so many office parties, family gatherings, and holiday events in December, one's chances of having one too many and getting behind the wheel while intoxicated increase significantly.
Speak with a drunk driving accident attorney from our Rhode Island-based law firm, Robert E. Craven & Associates, if you were in a DUI-related vehicle crash.
5 Facts About Drunk Driving Accidents During the Holidays
Regardless of whether you are planning to consume alcohol this holiday season or not, you may want to read our list of five facts about DUIs during the holidays.
People Double Their Drinking During the Holidays
People who do not normally drink tend to have a lower alcohol tolerance and are more likely to be intoxicated after having just a couple of drinks. That is one of the reasons why the number of DUI charges spikes across the nation during the holidays.
That is not to say that people who consume alcohol regularly drink less during the holidays. In fact, most of them drink even heavier than they normally do at this time of year. According to the Beverage Daily, Americans double their drinking during the holidays.
More Injuries and Deaths from Thanksgiving through New Year
As stated in the Awareness Poster by SCRAM Systems, approximately 25,000 Americans sustain injuries in car accidents caused by impaired motorists from Thanksgiving through New Year's Eve. About 40% of all fatal traffic collisions during the holidays involve a drunk driver.
One in Two Americans Say Alcohol Plays a Role During Holiday Celebrations
According to infographics provided by SCRAM Systems, 50% of Americans say alcohol plays a role in their holiday celebrations, while a staggering 96% admit to going to work while hungover after a night of drinking.
Police Are More Likely to Have Random DUI Stops During the Holidays
According to ABC6, law enforcement across Rhode Island have increased patrols to prevent drunk driving accidents during the 2019 holiday season. This is standard practice for the highway patrol and local police to install more checkpoints and have random traffic stops from Thanksgiving through New Year's Eve.
Police Do Not Need a Checkpoint to Pull You Over
There does not need to be a checkpoint for you to be pulled over during the holiday season. Law enforcement is more likely to stop you and pull you over if you have been swerving in-between lanes, speeding, or, on the contrary, driving too slowly.
If you were injured by an impaired driver in Rhode Island, you might be able to receive financial compensation via a personal injury claim. As we have discussed earlier in our blog, it does not always make sense to sue a drunk driver in Rhode Island.
While a financial settlement cannot undo what happened to you, it can help a victim get back on their feet sooner. Speak with our Rhode Island car accident attorney to discuss your options. Call at 401-453-2700 to schedule a consultation.
Resources:
abc6.com/story/41382311/thanksgiving-is-the-one-deadliest-holidays-for-drunk-driving
scramsystems.com/blog/2017/11/infographic-drinking-duis-holidays-2017/
scramsystems.com/holiday-drinking-and-duis-resources-from-scram/
beveragedaily.com/Article/2018/12/19/Americans-double-their-drinking-during-the-holidays-dampen-work-productivity
transportation.gov/www.transportation.gov/TransportationTuesday/holiday-drunk-driving-facts
https://www.robertecravenlaw.com/what-to-do-after-a-rhode-island-pedestrian-accident/