Who's at Fault in a Backing Out of Driveway Accident in Rhode Island?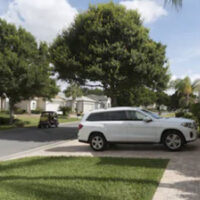 If you were in backing out of the driveway accident in Rhode Island, the question of liability might not be as easily determinable as in other car accident scenarios. If you were hit while the other driver was backing out of a parking space, it might seem that he or she is at fault for the crash.
Under certain circumstances, the driver or pedestrian who was hit while another driver was reversing out of a driveway may share responsibility for the collision.
Woman Killed, Man Injured After a Driver Backed Out of Driveway in Rhode Island
One such accident has recently occurred in Middletown, Rhode Island. A woman backing out of a driveway in Middletown, Rhode Island, injured a man and killed a woman. The driver of Jeep Cherokee plowed into the pedestrians while reversing out of a driveway, killing one and injuring the other, according to U.S. News.
The driver, a Florida native, was backing out when she drove into a yard across the street and hit two people. Her vehicle continued moving in reverse until it hit a porch. The woman, who was 80 years old, was pronounced dead at the scene. The injured man was hospitalized with serious injuries.
But who is to blame in accidents where one or both vehicles are backing out of a driveway or parking space?
How to Determine Fault in Backing Out of Driveway Crashes?
Rhode Island's traffic law requires drivers who are reversing out of driveways and parking spaces to wait until it is clear to back out. In other words, motorists are required to yield right of way to any other vehicle or pedestrian before reversing out of a driveway.
In theory, the pedestrian who got hit may still share liability if they darted out unexpectedly, and the reversing driver could not have reasonably avoided the collision. Typically, however, the driver who was reversing out of the driveway is at fault because they do not have the right of way when backing out.
Is the Driver Backing Up Always at Fault?
In most backing out of driveway accidents, the driver who reversed into you is liable for the collision. Thus, if you hit another vehicle while reversing, the accident is your fault. But what if both drivers were backing up at the same time?
If two vehicles collide while both drivers are reversing at the same time, determining fault can become complicated. Typically, investigators will have to determine who started backing out first.
Simultaneous backup accidents are a common scenario in parking lot crashes, which are often caused by distracted driving. Do not admit fault after your backing out of the driveway accident to avoid losing the right to recover damages via a personal injury claim.
Typically, you will not have a police report for an accident that happened in a parking lot or any other private property because the police have no jurisdiction to issue a report if the crash did not occur on a public roadway.
That is why you need a Rhode Island car accident attorney to determine fault and gather evidence despite the absence of the police report. Contact Robert E. Craven & Associates to review your situation. Call at 401-453-2700 today.
Resource:
usnews.com/news/best-states/rhode-island/articles/2020-02-02/woman-killed-man-injured-after-woman-backed-out-of-driveway
https://www.robertecravenlaw.com/a-jury-should-determine-whether-uber-is-liable-for-a-passengers-injury-a-rhode-island-judge-rules/