A Jury Should Determine Whether Uber is Liable for a Passenger's Injury, a Rhode Island Judge Rules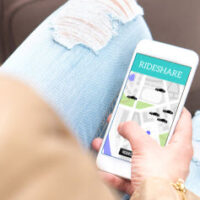 Rideshare apps such as Uber and Lyft have become increasingly popular among commuters in Rhode Island. The convenience, accessibility, and affordability make ride-hailing services an attractive option for commuters, riders traveling to and from the airport, or those who need to travel to venues with limited parking, such as downtown Providence.
When a Lyft or Uber vehicle is involved in an auto collision, determining liability or suing the rideshare provider is not exactly the easiest task. However, a recent ruling by a federal judge in Rhode Island has given hope to all those who cannot seem to obtain compensation after an Uber or Lyft accident.
Is Uber Held Liable for a Passenger's Injuries?
According to the Insurance Journal, a federal judge in Rhode Island ruled that a jury should determine whether Uber should be held liable for a passenger's injuries.
A U.S. District Court judge ruled that jurors should decide whether a Massachusetts Uber driver is considered an employee of the San Francisco-based rideshare service provider. Uber can be held liable for a Virginia passenger's injuries unless jurors determine that the driver is an independent contractor, as Uber insists.
In a 2017 lawsuit against Uber, the Virginia passenger accused the Massachusetts driver of negligence after crashing into an abandoned vehicle on Route 37 in Warwick, Rhode Island. It is unclear if distracted driving was to blame. The passenger, who was traveling from the airport, suffered a brain injury and other injuries that affected his ability to work and caused physical and emotional pain.
In the personal injury lawsuit, Uber argued that it is merely a software provider and cannot be held accountable for the rideshare driver's negligence in the 2017 collision. Uber and a subsidiary company are accused of negligence in the training and hiring of the Massachusetts driver.
The Uber passenger's attorney argued that Uber maintains an employer-employee relationship with its drivers since the rideshare provider controls their finances, and unilaterally determines the fares. Uber cited technology services agreements signed by the driver to prove that its drivers are independent contractors, not employees.
Understanding Liability and Compensation in Uber/Lyft Accidents in Rhode Island
In a typical car accident that does not involve Uber or Lyft, the at-fault driver will cover any injuries that their passengers incurred during the collision. In most cases, that means that your Rhode Island car accident attorney will negotiate with the at-fault driver's auto insurance company to secure appropriate payment for your medical expenses under the state's Med Pay requirement.
Despite the fact that Uber and Lyft routinely contend that their drivers are independent contractors in an attempt to avoid liability, drivers may be covered by the rideshare provider's insurance policy as well as their own auto insurance plan.
In order to tap into Uber's $1 million of liability insurance, it must be proven that the driver was actively picking up or dropping off a passenger during a vehicle crash. If the rideshare driver was logged into the company's app but not connected with a rider yet, Uber's policy might provide up to $50,000 in damages.
You may want to speak with a Rhode Island car accident attorney to navigate your claim against Uber or Lyft with ease. Our lawyers at Robert E. Craven & Associates will help you pursue justice and determine whether Uber can be held liable for your injury. Call at 401-453-2700 for a case evaluation.
Resource:
insurancejournal.com/news/east/2020/01/29/556813.htm
https://www.robertecravenlaw.com/do-all-elderly-drivers-in-rhode-island-get-their-drivers-license-suspended-or-face-restrictions/