Can You Use Dashboard Camera Footage to Support Your Car Accident Claim?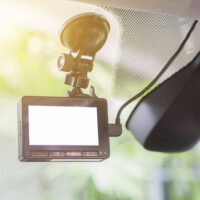 A dashboard camera, or a dashcam, is a camera mounted to the interior of a vehicle to record the road ahead of the vehicle. Many drivers mount a dashcam just below the rear-view mirror.
Since the primary function of a dashcam is to record everything that happens on the road, it can capture the moment of a car crash. But can you actually use dashboard camera footage to support your claim following a car accident?
What is the legality of using dashcam footage in personal injury and car accident claims in Rhode Island?
How can dashboard camera footage help your claim?
Dashboard camera footage can serve as an important piece of evidence in a car accident claim, especially when there are disputes regarding how the collision occurred and who was at fault for causing it.
Here's how using dashcam footage can help support your car accident claim in Rhode Island:
It can serve as evidence to prove your version of the story;
Viewing footage can help you recall precisely how the accident occurred;
It can be used to prove that the other driver's version of the story is not accurate;
You can use the dashcam footage to establish fault in the collision (for example, it shows that the other driver failed to yield the right of way, ran a red light, or cut you off before the accident);
It can serve as an invaluable piece of evidence in car accident cases where there were no witnesses;
Having dashboard camera footage of the accident can help speed up the insurance claims process because it will minimize he-said-she-said disputes; and
It can prove that you were a victim of a hit-and-run accident.
Using dashcam footage may make a major difference to help you support your claim following a vehicle crash in Rhode Island. However, it is advised to speak with a Rhode Island car accident attorney to determine whether dashcam footage can help bolster your claim.
Can you use dashcam footage as evidence during the insurance claims process?
Not all insurance companies have a clear policy regarding dash camera footage as evidence. Some insurers will consider dashcam footage, while others do not give much weight to them.
It is important to seek help from a skilled car accident attorney to ensure that dashcam footage and other evidence proving the other party's fault are considered during the claims process.
Insurers use a wide range of tactics to undervalue and deny legitimate car accident claims, which is why the insurance adjuster may intentionally ignore your dashcam footage or other pieces of evidence to pay you as little as possible.
When you are represented by an experienced lawyer who is able to present your case convincingly, the insurance company is more likely to handle your claim fairly.
Schedule a consultation with our Rhode Island car accident lawyers at Robert E. Craven & Associates to evaluate your particular case and help you use all available evidence, including dashcam footage, to your advantage Call at 401-453-2700 to schedule a consultation with our attorneys.